Paramount Picks Up Buddy Cop Pitch With Seth Rogen And Kevin Hart Attached To Star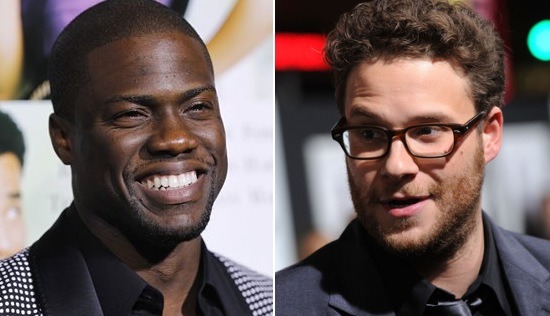 Before Chris Tucker and Jackie Chan, before Danny Glover and Mel Gibson, there was Kevin Hart and Seth Rogen. Well — in terms of movie-fiction history, anyway. Hart and Rogen are attached to play cops in an action-comedy pitch set in the post-World War II era, from former Late Show with David Letterman head writer Rodney Rothman. More details after the jump.
Rothman first thought of the premise several years ago, and took the idea to Rogen to convince him to star. Rothman, Rogen, and Hart have a working relationship that goes back more than a decade, to Judd Apatow's 2001-2003 Fox comedy series Undeclared; Rogen wrote and starred in the show, while Rothman wrote and produced and Hart guest-starred. More recently, Rothman produced Nicholas Stoller's The Five-Year Engagement, which stars Hart, and Rogen and Hart appeared together in Apatow's The 40-Year-Old Virgin.
Though Rothman has written mostly for television throughout his career, he's been making moves toward the silver screen as of late. Rothman produced several recent Apatow Productions pictures including Forgetting Sarah Marshall and Get Him to the Greek, and is now set to make his feature directing debut in Universal's The Something. That script, which he also wrote, is described as "an ensemble comedy/horror hybrid set in deep space" with a Zombieland-like tone.
Rogen was most recently seen in last fall's cancer comedy 50/50, and will star in this summer's Take This Waltz opposite Michelle Williams and this fall's The Guilt Trip with Barbra Streisand. Hart has both The Five Year Engagement and Think Like a Man due out next month.