TV Bits: Marc Maron's 'WTF' Coming To IFC, Plus: 'Magic City' Trailer, 'The Walking Dead' Video Game, 'Game Of Thrones', 'Grimm', And More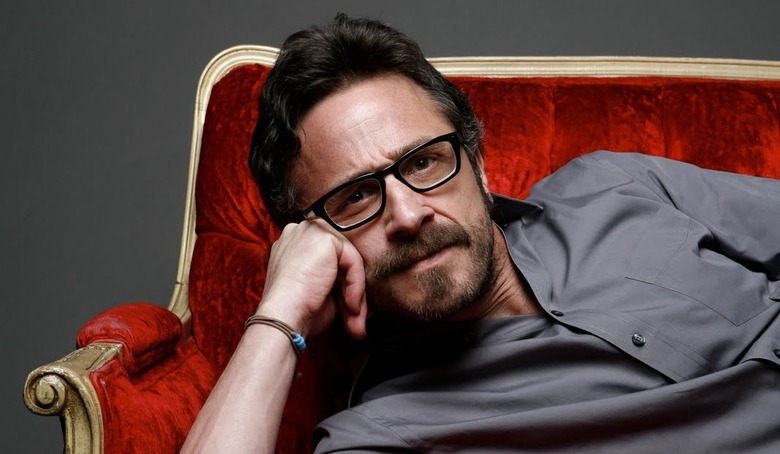 Comedy nerds rejoice: WTF with Marc Maron is heading to a small screen near you, thanks to IFC. Also after the jump:
Starz' Magic City gets a new, NSFW trailer
NBC renews Grimm for Season 2
TNT announces its summer lineup
Game of Thrones unveils new character portraits
The Walking Dead video game gets a trailer
The pilot, which screened at the New York Television Festival last fall, was directed by Academy Award winner Luke Matheny (God of Love) from a script by Maron and Duncan Birmingham. While that episode features Ed Asner as Maron's bipolar father and Community actor Ken Jeong as himself, no casting has been announced at this time and it's unclear whether Asner or Jeong plan to return beyond the pilot. The series is expected to debut next fall. [via HuffPo]
Because premium cable channels would like you to remember that that those extra dollars also buy looser decency standards, Starz has debuted a NSFW (for nudity) red-band trailer for its glitzy new drama Magic City. Jeffrey Dean Morgan stars as Miramar Playa Hotel owner Ike Evans, one of the most successful men in 1959 Miami. His enviable facade begins to crumble, however, as he finds himself unable to shake the dark deal he made with mob boss Ben Diamond (Danny Huston) to pay for his dream in the first place.
Magic City seems to serve up exactly the glam, slightly seedy guilty pleasures we were hoping to get from The Playboy Club before it tanked last year, and with talents like Morgan and Huston on board I'm guessing we'll get some genuinely well-acted drama as well. You can preview the pilot when it airs behind the Spartacus: Vengeance finale on Friday, March 30, or wait for its regular series premiere on Friday, April 6. Until then, head over to Starz' YouTube page to check out featurettes about the style, setting, and shooting of the show. [Cinema Blend]
Freshman drama Grimm has received a 22-episode second season order, becoming the first NBC series to get picked up for next season. Though the series hasn't generated as much buzz as some of NBC's other series (ahem, Community), it's been a solid performer on Friday nights throughout its first season. More renewal announcements from NBC are expected to follow shortly. [Deadline]
In the meantime, you can start looking over TNT's summer lineup, which includes the second season of the sci-fi drama Falling Skies and the revamped soap Dallas:
Tuesday, June 5
9/8c | Rizzoli & Isles (Season 3, 10 summer episodes)
10 pm | Franklin & Bash (Season 2, 10 episodes)
Wednesday, June 13
9 pm | Dallas (Season 1, 10 episodes)
Sunday, June 17
9 pm | Falling Skies (two-hour season premiere; Season 2, 10 episodes)
Sunday, June 24
10 pm | The Great Escape (Season 1, 10 episodes)
Monday, July 9
9 pm | The Closer (Season 7, six final episodes)
10 pm | Perception (Season 1, 10 episodes)
Sunday, July 15
8 pm | Leverage (Season 5, 10 summer episodes)
Monday, Aug. 13
10 pm* | Major Crimes (Season 1, 10 episodes)
* Premiere follows The Closer's series finale; regular timeslot is Mondays at 9
Head to TV Line for more info on the new shows.
HBO's Game of Thrones tends to range from serious to dead serious in tone, but thankfully, it appears the actors are rather more lighthearted when cameras aren't rolling. I'm in love with adorable group photo of Kit Harrington (Jon Snow), Emilia Clarke (Daenerys Targaryen), Lena Headey (Cersei Lannister), Nikolaj Coster-Waldau (Jaime Lannister), and Peter Dinklage (Tyrion Lannister) rocking out on air guitars. For the record, if these guys ever really do decide to start their own metal band, I'd be first in line to buy tickets.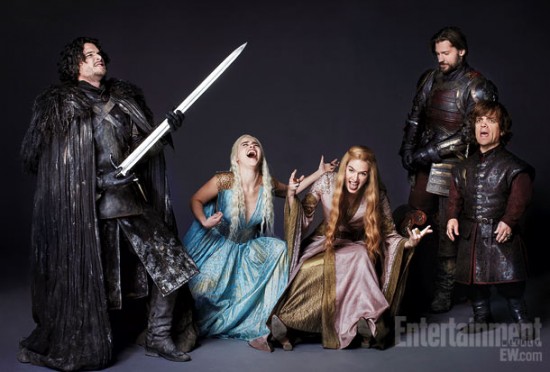 Other, less goofy cast portraits to be found at EW.com. I should warn you that if you're not caught up on Season 1, there's at least one big spoiler at the link — but then again, the spoiler-y picture in question is going be on the cover of EW, so you're bound to see it sooner or later. Game of Thrones' second season premieres Sunday, April 1. [via HuffPo]
AMC's The Walking Dead is currently on break, having aired its second season finale over the weekend. But have no fear, zombie addicts — there are more kills coming up soon. Telltale Games has released a brand-new teaser for its upcoming video game based on the series, which centers around a new character named Lee Everett. Though he starts out under police custody, he's freed once the zombie apocalypse breaks out. Lee eventually takes on a young girl named Clementine, and the two struggle to survive in the new post-apocalyptic reality as they occasionally cross paths with familiar characters like Glenn and Hershel. Here's the first teaser, which explores Clementine's origins:
And here's another new video, which shows more of the game and its characters. Skip ahead to 8:53 to watch the trailer.
The Walking Dead game will consist of five episodes, the first of which will be released in April. [TG Daily, Siliconera, WebProNews]