Remake Bits: New 'Gremlins' Needs Spielberg's Blessing; 'Red Dawn' Poster; 'The Loft' Trailer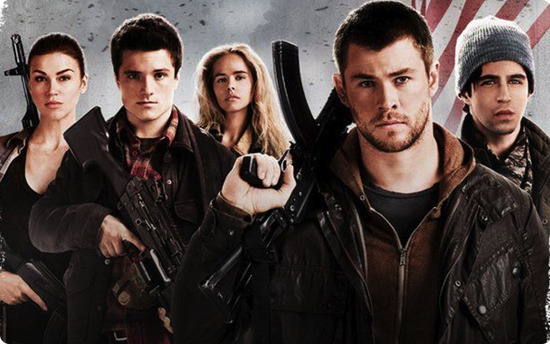 Sometimes we put all the depressing remake news in one place, but this installment is relatively uplifting. It has news about one big hurdle any new Gremlins film faces, an innocuous new poster, and a silly but entertaining trailer. After the break,
A Gremlins remake can't happen without Steven Spielberg's blessing,
See the poster for Red Dawn,
and check out the trailer for The Loft, which remakes a 2008 Belgian thriller.
First up, as producer Frank Marshall is out promoting The Bourne Legacy, he's talking about all manner of potential films. Asked about another Gremlins sequel, Marshall told Crave Online "you know, we've had people call us about it but I think that's another one that's kind of now left to be its own. It's like doing Goonies 2 or E.T. 2. I think it's another time, it's another era and they should just rest where they are." Asked about the possibility of a remake, he said,
No, I don't think so. I think by now we have something in our contracts, or at least Amblin does, where it can't be remade without Steven's permission.
Meanwhile, the Red Dawn remake did happen — years ago — and is now nearing release. The trailer hits tomorrow, but for the time being you can check out the first theatrical one-sheet, which shows new Wolverines Chris Hemsworth, Josh Peck and Josh Hutcherson. Not pictured: the evil invading North Koreans.

In Red Dawn, a city in Washington state awakens to the surreal sight of foreign paratroopers dropping from the sky – shockingly, the U.S. has been invaded and their hometown is the initial target. Quickly and without warning, the citizens find themselves prisoners and their town under enemy occupation. Determined to fight back, a group of young patriots seek refuge in the surrounding woods, training and reorganizing themselves into a guerilla group of fighters. Taking inspiration from their high school mascot, they call themselves the Wolverines, banding together to protect one another, liberate their town from its captors, and take back their freedom.
FilmDistrict releases Red Dawn on November 21.
Finally, here's the trailer for The Loft, which is Erik Van Looy's remake of his own 2008 psychological thriller. The remake stars Karl Urban, James Marsden, Wentworth Miller, Eric Stonestreet, Matthias Schoenaerts, Isabel Lucas, Rachael Taylor and Rhona Mitra, and tells the story of five married men who co-own a condo where they have sex with hot women who aren't their wives. Until, at least, one guy shows up to find a very dead woman in the bed, leading to loads of backstabbing and suspicion amongst the former friends.
The trailer makes the film look like a juiced-up B movie, and is not safe for work thanks to some sex and violence.