Sequel Bits: 'Expendables 2' Will Get An R Rating After All, Plus: 'Starship Troopers: Invasion', 'Men In Black 3', 'TRON: Uprising'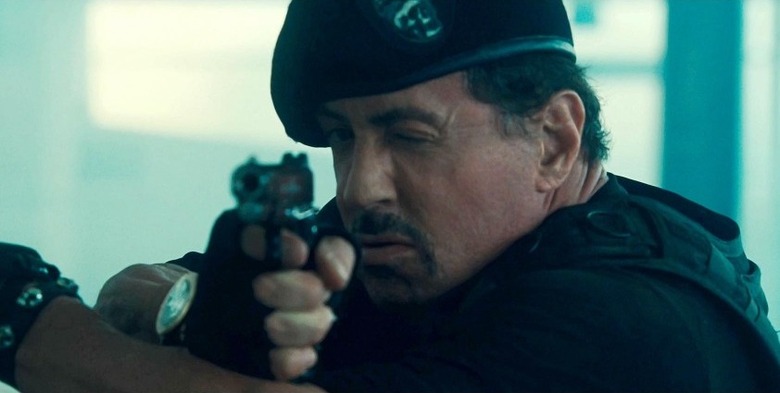 The fact that the first Expendables was an R-rated affair didn't stop it from underwhelming some, so Sly's confirmation that Expendables 2 will be R, not PG-13, after all still isn't a guarantee of quality — but it probably helps. Also after the jump:
Watch a trailer for the Starship Troopers: Invasion, the animated sequel
Men in Black 3 drops a new promo image.
TRON: Legacy orchestrator Joe Trapanese will return for TRON: Uprising
Since Norris' objection to the R rating had more to do with cursing than violence, it's possible that Expendables 2 will try to keep the language clean even while dialing up the action. Or maybe the outcry was such that Stallone's decided to drop the PG-13 plan altogether. Either way, if you've been hoping for a rougher, tougher Expendables 2, it seems your wishes have been granted. Also starring just about every action star of the '80s and '90s plus Liam Hemsworth, the film opens August 17. [Bleeding Cool]
Fifteen years after the release of Paul Verhoeven's Starship Troopers, Hollywood seems determined to revisit the sci-fi tale one way or another. Back in December, we heard that Fast and Furious producer Neil Moritz had a remake in the works, and this past weekend at WonderCon, the first trailer for the animated sequel Starship Troopers: Invasion premiered. Watch it below:
Invasion comes from screenwriter Flint Dille and Appleseed director Shinji Aramaki. The film is expected to go straight to DVD sometime this summer. Here's the synopsis:
A distant Federation outpost Fort Casey comes under attack by bugs. The team on the fast attack ship Alesia is assigned to help the Starship John A. Warden stationed in Fort Casey evacuate along with the survivors and bring military intelligence safely back to Earth. Carl Jenkins, now ministry of Paranormal Warfare, takes the starship on a clandestine mission before its rendezvous with the Alesia and goes missing in the nebula. Now, the battle-hardened troopers are charged with a rescue mission that may lead to a much more sinister consequence than they ever could have imagined...
When we first heard about the project, the official website stated, "We really want this installment of the Starship Troopers franchise to be known for its action, grit, and mind-blowing space battles." Think this video delivers on that promise? [Bleeding Cool]
Men in Black 3 has unveiled another promo image that, frankly, couldn't look like a more generic piece of MIB marketing if it tried. Will Smith, Josh Brolin, and Tommy Lee Jones don their signature black suits and shades, while Smith brandishes a gun and Jones a neuralyzer. Poor Brolin is left utterly defenseless.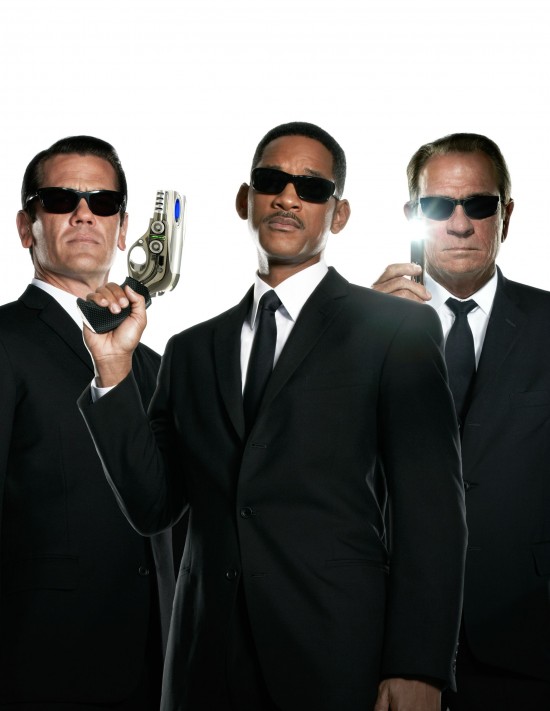 Agents J (Will Smith) and K (Tommy Lee Jones) are back... in time. J has seen some inexplicable things in his 15 years with the Men in Black, but nothing, not even aliens, perplexes him as much as his wry, reticent partner. But when K's life and the fate of the planet are put at stake, Agent J will have to travel back in time to put things right. J discovers that there are secrets to the universe that K never told him — secrets that will reveal themselves as he teams up with the young Agent K (Josh Brolin) to save his partner, the agency, and the future of humankind.
Men in Black III hits theaters May 25. [CBM]
Daft Punk won't be back to score Disney XD's animated prequel series TRON: Uprising, but those who enjoyed their TRON: Legacy soundtrack can take comfort in the fact that Uprising's music will share some its DNA with its big-screen predecessor. Joe Trapanese, who orchestrated music for Daft Punk on Legacy, will compose for Uprising, and he plans to use the framework that Daft Punk developed in the previous film:
[W]hat's cool is that we have a long season; we have a lot of episodes to get through, a lot of characters to develop, and what's great about that is you can take that framework that Daft worked so hard on in the film and then explore that. And you can take that story [by] Joe Kosinski and Sean Bailey and Justin Springer in the new film, plus the story of the original film, by Steve Lisberger, put them together and explore it in all sorts of ways that they couldn't even imagine. So its kind of the best of both worlds. You're kind of working within a really strong framework and really strong legacy, but you're also exploring it in ways that you're finding new creativity at every turn.
Or, in short, "I think if you enjoyed the score for TRON: Legacy, you'll very much enjoy the score for TRON: Uprising." [THR]