'Prometheus' Has Landed: New IMAX Teaser, Actor Q&A And Viral Ad For Your Own Fassbender Android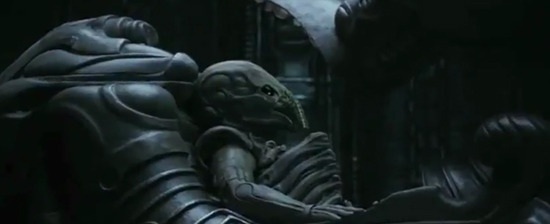 It's a big day for those anticipating Ridley Scott's new film Prometheus. The director is at WonderCon today and will shortly premiere the new full-length trailer for the film. (We'll have that in a separate post as soon as it is available.)
But there is a bounty of other materials: a Q&A with actors Charlize Theron and Michael Fassbender, a new commercial that jumps off from the film's viral campaign, and a one-minute IMAX teaser that is just stunning, due in part to the new look at the classic Space Jockey from Alien. (That being the story element that kicked this project into gear in the first place.) Find all below.
First, from Yahoo UK comes this Q&A with Charlize Theron and Michael Fassbender, which has been replaying today and can be streamed with the embed below:
One of the best bits of this Q&A is Charlize Theron talking about taking inspiration from Tilda Swinton's character in Michael Clayton — the hard-ass bulldog whose own real terror and insecurity is seen in one of that film's defining moments.
Then there's this great commercial for the android played in the film by Michael Fassbender. This comes via the Weyland Industries site, and is a great compliment to the TED Talk featuring Guy Pearce as Peter Weyland.
Finally there is this bit of wonder: a one-minute teaser for the film's IMAX release. This is packed with new footage, and honestly, if this was the only new trailer being released today I'd still say Fox had done a killer job. But there is still another full-length trailer to come.
That IMAX teaser was unlocked through the film's viral ad campaign. Another part of that campaign is the set of badges handed out at WonderCon today. If the images below don't make the writing clear, one key part is that the badge suggests people should call **Weyland.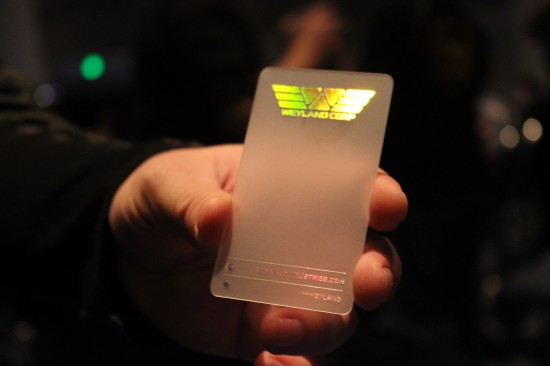 Damon Lindelof and Jon Spaihts wrote Prometheus; it stars Noomi Rapace, Michael Fassbender, Charlize Theron, Idris Elba, Sean Harris, Kate Dickie, Rafe Spall, Logan Marshall-Green, Guy Pearce, and Patrick Wilson. The film will hit theaters June 8, 2012.
Ridley Scott, director of "Alien" and "Blade Runner," returns to the genre he helped define. With PROMETHEUS, he creates a groundbreaking mythology, in which a team of explorers discover a clue to the origins of mankind on Earth, leading them on a thrilling journey to the darkest corners of the universe. There, they must fight a terrifying battle to save the future of the human race.