Sequel Bits: Riddick, Star Trek 2, Men In Black 3, Dazed And Confused 2, American Reunion, Dark Knight Rises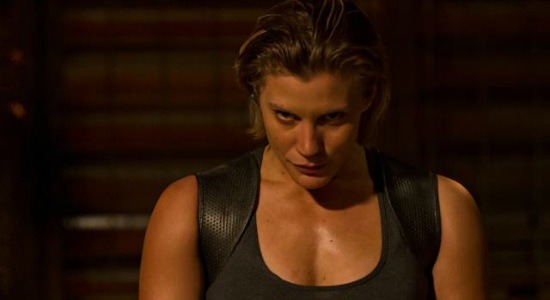 You want Riddick photos, Star Trek 2 photos, Men in Black 3's website, Dazed and Confused 2 rumors, American Reunion images and news on who just saw the first screening of The Dark Knight Rises? It's all here in Sequel Bits, which includes:
The first look at Battlestar Galactica's Katee Sackhoff on the set of Riddick.
Your first look at John Cho's Sulu in J.J. Abrams' Star Trek 2.
A few new looks at Men in Black 3 on its official website.
Richard Linklater and Matthew McConaughey talk about bringing back Wooderson for a Dazed and Confused sequel.
New photos from the upcoming comedy American Reunion.
Christopher Nolan just showed the first cut of The Dark Knight Rises to Warner Bros. executives.
As usual, the best Riddick news comes from Vin Diesel's Facebook. He's posted a few new images from the set of the David Twohy directed sequel to Pitch Black and The Chronicles of Riddick, the most exciting being the following look at Katee Sackhoff.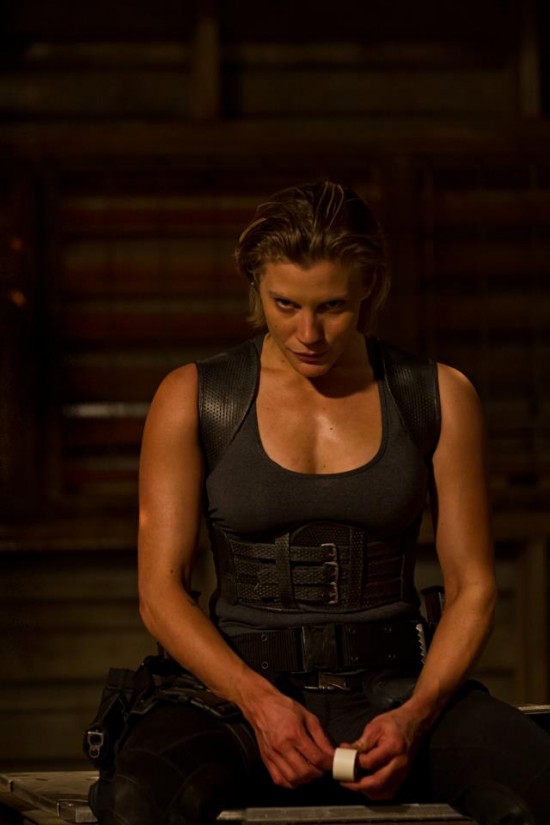 The caption on the photo reads:
Not all Mercs are spineless... in fact some are downright sexy...GRRRR...
P.s. Katee who plays "Dahl" wrapped picture this morning at 5:45 am, after a long night of rain, action and wires... the talent she brought to the new Chronicles of Riddick... added magic to the film and the process. /salute
Head to the Facebook page for a few more images.
Blastr posted some photos from Trek Brasilis of John Cho walking to the Star Trek 2 set, giving us our first glimpse of the Sulu character. Admittedly, he's wearing a coat so we can't see anything but, it's still a Star Trek 2 set picture nonetheless.
Moving right along, Cinemablend noticed that the Men in Black 3 website has launched. It's pretty slick, has a few new images, GIFs and an official plot synopsis. Here's one of the images, Pussycat Doll Nicole Scherzinger. There's MUCH more on the site.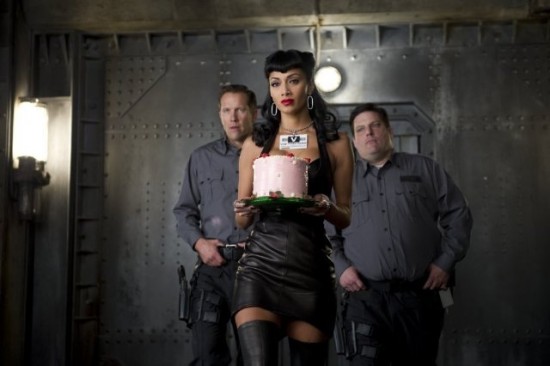 In an interview with The Playlist, Richard Linklater and Matthew McConaughey spoke about a semi-recent rumor that the pair were thinking about bringing back McConaughey's Dazed and Confused character, Wooderson, for a "spiritual sequel" to that film. The film, reportedly called That's What I'm Talking About, would feature Wooderson in Los Angeles. Linklater said it's something they'd talked about but that there's no real connection to Dazed and Confused:
It's not really a sequel; that's a word that just kind of comes out. They're not the same characters....That's just another film like Bernie that I'm wanting to make, and maybe someday I'll get the money to do it.
Head there to read more, including the genesis of Wooderson appearing in a music video.
Also at The Playlist, they posted a huge gallery of images from American Reunion, the American Pie, well, reunion that comes out April 6. Just a lot of character images and pretty girls. Here's one image, head there for the rest.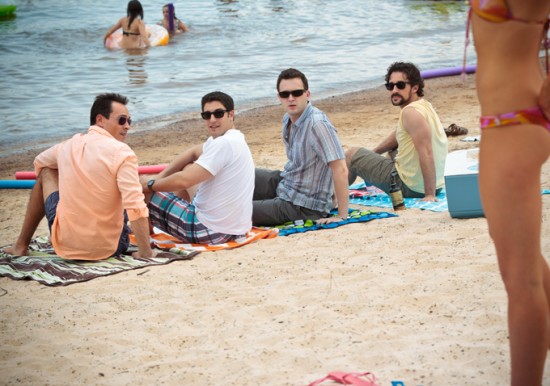 And finally, The Hollywood Reporter says on Friday, Christopher Nolan showed his first cut of The Dark Knight Rises to Warner Bros. executives. What did they think? No one knows. But it's kind of comforting to know how close we're really getting.