Universal To Adapt 'The Cat In The Hat' Again, This Time As A 3D, CG-Animated Feature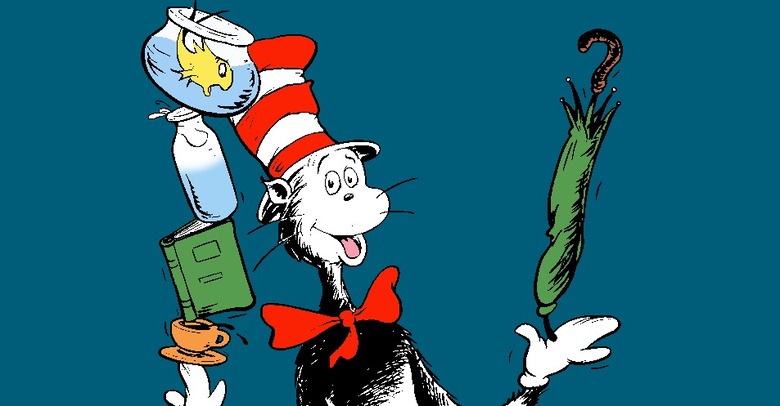 Dr. Seuss' The Cat in the Hat proved a critical and commercial disappointment for Universal back in 2003 — so much so that Audrey Stone Geisel declared she'd never let Hollywood make a live-action adaptation of her late husband's work again. But now, emboldened by the box office dominance of its Dr. Seuss' The Lorax over the past couple of weeks, the studio is getting the pieces together to revisit the classic children's tale in 3D, CG-animated form. Rob Lieber, who previously adapted the upcoming Alexander and the Terrible, Horrible, No Good, Very Bad Day, is set to write the script. Hit the jump for more details.
Along with Green Eggs and Ham, How the Grinch Stole Christmas!, and The Lorax, Cat in the Hat is one of Seuss' most beloved titles, and its titular feline one of his most recognizable creations. The Cat appears in six of Seuss' books, and serves as a sort of mascot for his estate. It was inevitable that Universal would want to revisit the character, though it's a bit surprising that they're moving on it just nine years after the Mike Myers-starring live-action adaptation was released. Then again, it's not as if anyone remembers that movie fondly; it makes sense that Universal would be eager to move on with what it hopes will be a much better interpretation.
In addition to The Lorax and The Cat in the Hat, Universal, Illumination, and Geisel have also been working together on a different Seuss-inspired movie, a biopic that has Johnny Depp attached to produce and star. That film is being developed as a live-action project, though possibly with animated elements.