First Footage From Len Wiseman's 'Total Recall' Remake, Starring Colin Farrell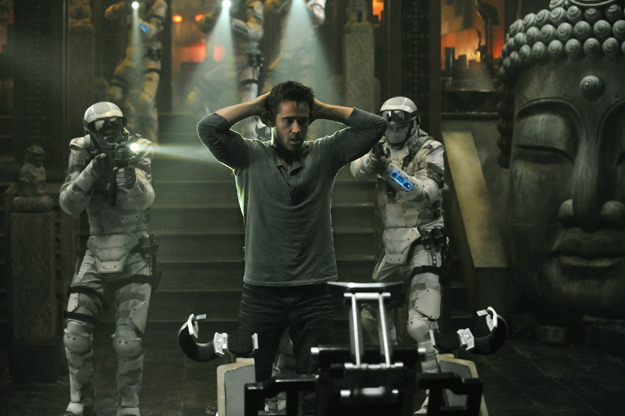 This weekend, we should get the full trailer for Sony's remake of Total Recall, in which we'll see Colin Farrell squaring off against Bryan Cranston and his own identity. But in the meantime an ad has gone online out of Taiwan (seemingly from the Taiwan arm of Sony) that incorporates a lot of Total Recall footage, and you can see it below. This one might not last long, so check it out now.
I say this one could be pulled soon because the edit uses footage that is clearly not meant to be shown to the public. It's all stuff from the reel shown in Hall H at Comic Con almost a year ago, and I expect that we'll see much of this in the upcoming trailer. Yet the timecode and relatively dull color palette suggests that this is some sort of rough edit. But the originating YouTube channel seems to be Sony, so we'll go with it.
So... yeah. When we saw this footage last year I thought it looked a lot like a video game, and that impression hasn't changed. I like Farrell a lot, and I'm looking forward in part to seeing what he brings to this, but beyond his work and Cranston's villain, I still need to be convinced.
Total Recall is out August 3. The Len Wiseman-directed reboot stars Colin Farrell, Kate Beckinsale, Jessica Biel, Bryan Cranston and John Cho.
"Total Recall" is an action thriller about reality and memory, inspired anew by the famous short story "We Can Remember It For You Wholesale" by Philip K. Dick. Welcome to Rekall, the company that can turn your dreams into real memories. For a factory worker named Douglas Quaid (Colin Farrell), even though he's got a beautiful wife (Kate Beckinsale) who he loves, the mind-trip sounds like the perfect vacation from his frustrating life – real memories of life as a super-spy might be just what he needs. But when the procedure goes horribly wrong, Quaid becomes a hunted man. Finding himself on the run from the police – controlled by Chancellor Cohaagen (Bryan Cranston), the leader of the free world – Quaid teams up with a rebel fighter (Jessica Biel) to find the head of the underground resistance (Bill Nighy) and stop Cohaagen. The line between fantasy and reality gets blurred and the fate of his world hangs in the balance as Quaid discovers his true identity, his true love, and his true fate.