Superhero Bits: Batman, Avengers, Spider-Man, Wolverine, Teenage Mutant Ninja Turtles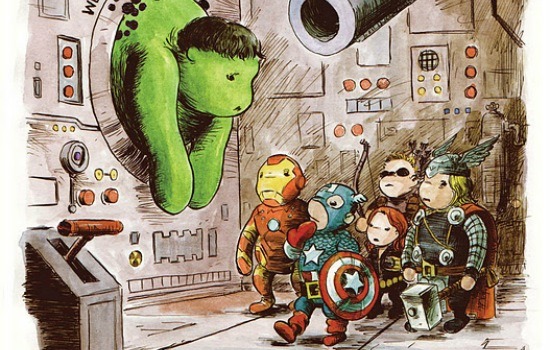 Want to watch some clips from the Ultimate Spider-Man cartoon? Why is Batman always running from stuff? What does Peter Dinklage look like as Wolverine? How about Winnie the Pooh characters as The Avengers? Would you like to see images and videos from the re-opening of The Amazing Adventures of Spider-Man ride at Islands of Adventures? Read about all this and more in today's Superhero Bits.
Note: Being as I'm at SXSW, we'll be playing catch up most of this week with Superhero Bits. We'll be back on a normal schedule by Thursday.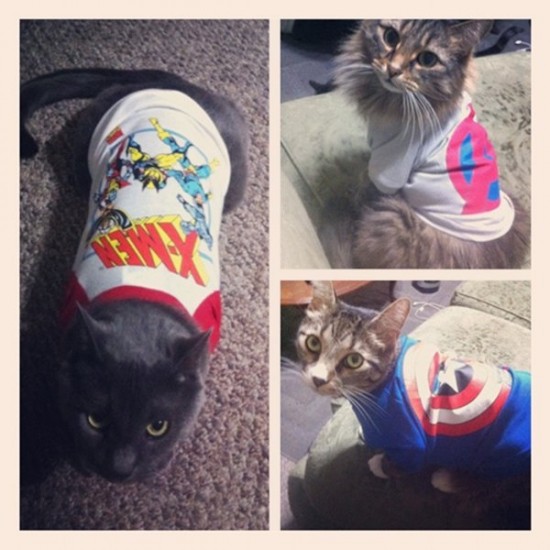 If it's the internet, you know cats are going to be in superhero t-shirts. Thanks to Fashionably Geek.
USA Today (via Topless Robot) posted several new clips from Ultimate Spider-Man. That's just one.
One photo or video can't do this post over at Movies.com justice. It's a history of Batman marketing and it's great.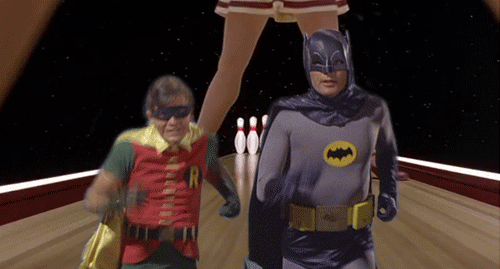 This Tumblr, Batman Running From Shit, is amazing. Thanks to Nerdcore.
Stan Lee spoke about the new chances to the Islands of Adventures Spider-Man ride. Thanks to The Disney Blog.Inside the Magic has some fantastic coverage – videos, photos, etc. – of the reopening of the Spider-Man ride.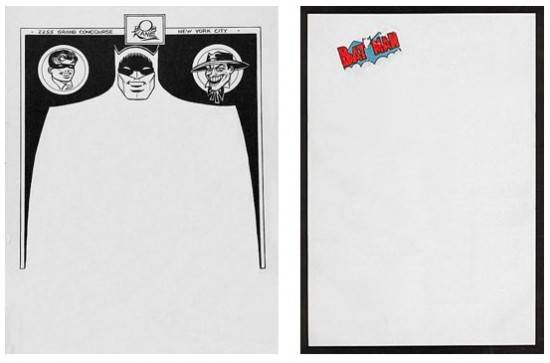 Batman creator Bob Kane's letterhead. Thanks to Letterheady via BoingBoing.Topless Robot makes the point that, while female superheroes usually are known for their scantily clad outfits, sometimes the guys do too. Here are the top 11.
Due to the amount of graphics and images included in Superhero Bits, we have to split this post over THREE pages. Click the link above to continue to the second page of Superhero Bits.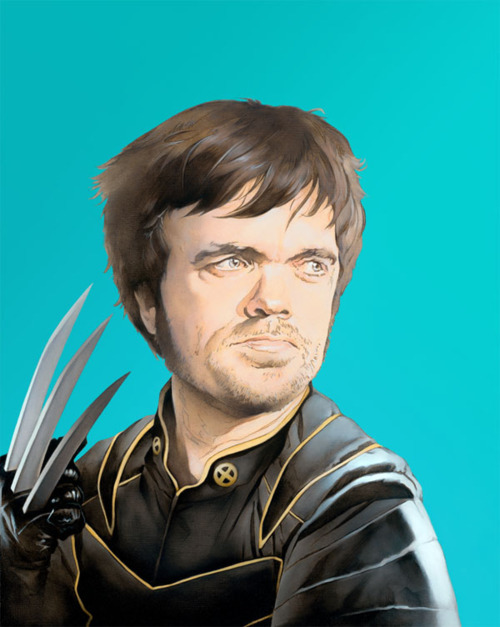 Artist Brandon Bird (via Sir Mitchell) imagined Peter Dinklage as Wolverine.
Badass Digest reposted an old Tom Waits interview, surmising it was Heath Ledger's basis for his performance in The Dark Knight.
The Daily What posted this little cartoon by Cathy Leamy via comicsalliance to help you remember how to spell Spider-Man. Hyphen required.
There's a man in Brazil who dresses as Batman and fights crime. Read more at Bleeding Cool (via Nerd Bastards.)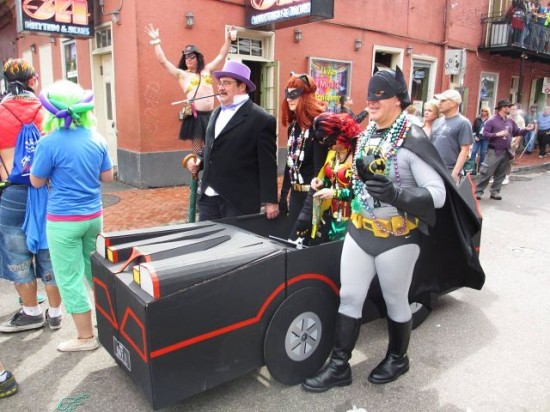 UniqueDaily posted this photo they're calling "Low Budget Batman." Actually, it's pretty damn impressive I think.Gamma Squad has come up with their list of the seven best superhero movie themes. Listen to them at that link.
Due to the amount of graphics and images included in Superhero Bits, we have to split this post over THREE pages. Click the link above to continue to the third page of Superhero Bits.
The Awesomer points us to this discussion between Batman and Superman about the iPhone 4S.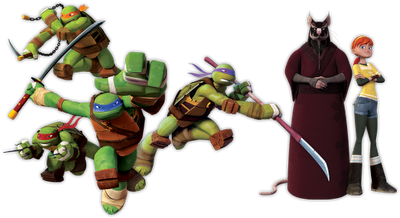 Bleeding Cool has a bunch of new images from an upcoming Teenage Mutant Ninja Turtles TV show.
Head to Entertainment Earth (via Fashionably Geek) for some cool knitted TMNT sweaters.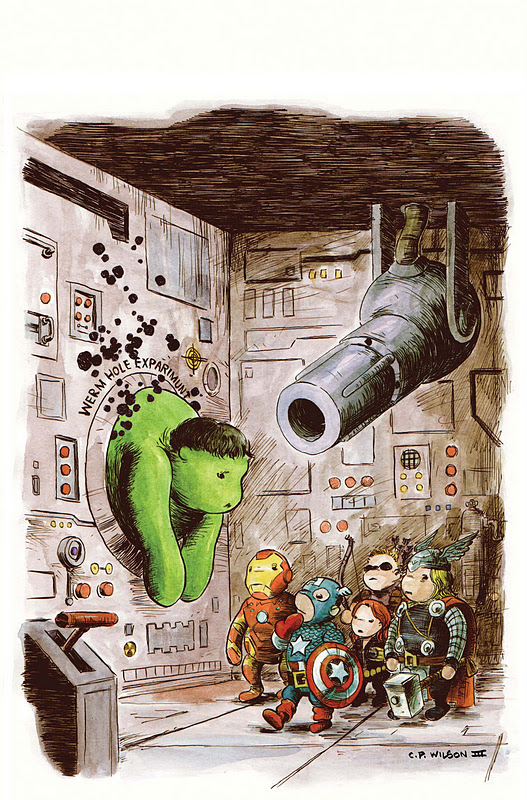 Artist Charles Paul Wilson III (via Geek Art) posted some gorgeous mashups of Winnie the Pooh and The Avengers. There are many others on the page.
80s Tees has superhero socks on sale. Get on that. Thanks to Fashionably Geek.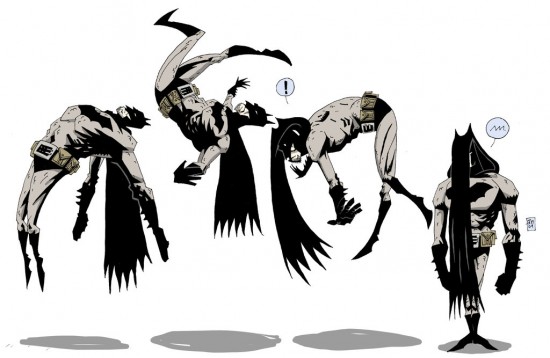 We all flip for Batman, and here he is doing the same thanks to artist Andrew MacLean via Geek Tyrant.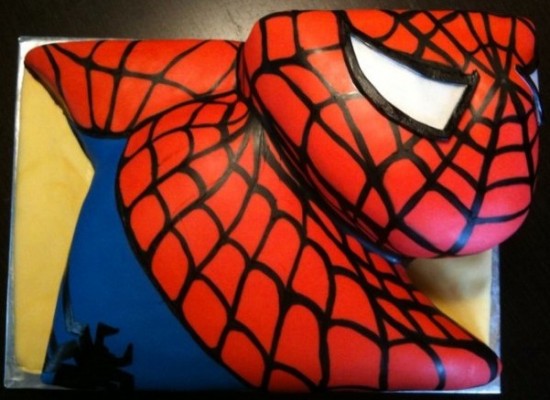 Finally, we'll end the column with this Spider-Man cake for dessert by Bluebird Cakes over on Between the Pages.