TV Bits: Is 'Mad Men' Going Back In Time? Plus: 'Game Of Thrones' Trailer, 'Girls' Clips, Carlton Cuse Joins 'Bates Motel', 'Dexter' And 'Homeland' Return Dates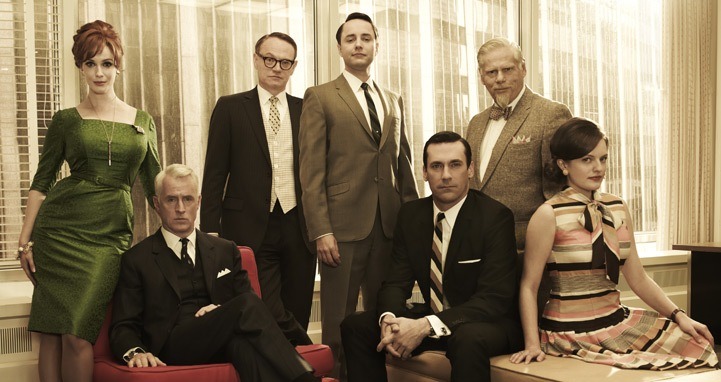 Lena Dunham and company may be having trouble finding lasting romance in HBO's Girls, but they've still got it way easy compared to the tormented lovers of HBO's Game of Thrones. For one thing, I'm betting love affairs in the former involve way fewer beheadings. After the jump:
Mad Men hints a look back to the '50s
Carlton Cuse explores Norman Bates' formative years
Game of Thrones drops a lovey-dovey new promo
Girls gets two more trailers and a glowing review
Showtime sets return dates for Dexter and Homeland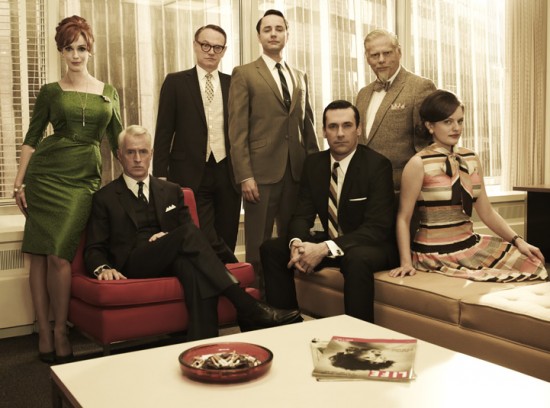 Notice the conspicuously placed magazine in the above photo? That's an old issue of Life with Rita Morena on the cover — from March 1954. Since the cast is dressed in '60s attire, it seems unlikely that the entire show will be jumping back a decade, so it's possible that this is just a red herring.
On the other hand, it's difficult to believe that a shot composed as carefully as this one, from a show that's known for its obsessive attention to period details, would slip up by including a magazine as outdated as that Life issue. Especially given that there are hardly any other props in the shot. Feel free to speculate on what may have happened in 1954 before the season premieres Sunday, March 25 on AMC. [HuffPo]
And speaking of time travel: Lost co-showrunner Carlton Cuse has signed on for Bates Motel, an A&E series that will serve as a prequel to Alfred Hitchcock's horror classic Psycho. Described as Twin Peaks meets Smallville, Bates Motel will tell the story of young Bates and how his deranged mother and her lover turned him into the psychotic killer of the film.
Cuse is on board to executive produce as well as oversee writing and production on A&E's six-episode "event," which the network hopes to eventually expand into an ongoing series. He joins Friday Night Lights alum Kerry Ehrin, who's set to write and executive produce alongside Cuse. Mark Wolper and Roy Lee will produce. [THR]
Much of the marketing we've seen for Season 2 of HBO's Game of Thrones has centered around the impending war, but a new one shifts gears to focus on love. Unfortunately, and unsurprisingly, it turns out that the latter is almost as grim an undertaking as the former in this nasty universe, and that the two are inextricably intertwined. Watch it below.
Game of Thrones returns Sunday, April 1. [EW]
On the lighter side of HBO, we also have two new clips for Lena Dunham and Judd Apatow's Girls. The more I see of this show, the more I'm intrigued. Speaking as someone more or less in Dunham's demographic, Girls looks like a painfully honest take on both the joys and unique horrors of being young and adrift in one of the greatest cities in the world.
It also helps that Girls has received some glowing early praise — THR called it "one of the most original, spot-on, no-missed-steps series in recent memories," comparing it to critical favorite Louie. If Girls is even half as good as that description indicates, it'll be well worth a look when it debuts Sunday, April 15. [Bleeding Cool]
I haven't even started thinking about fall television yet, but then again, I'm not a network exec. Showtime has announced return dates for two of its big hits, the long-running Dexter and the relatively new Homeland. Michael C. Hall's beloved serial killer is slated to return for its seventh season on September 30 at 9 PM, followed by Season 2 of Homeland at 10 PM on the same night. [TV Line]