'The Raid' Director Gareth Evans Discusses His Sequel Plans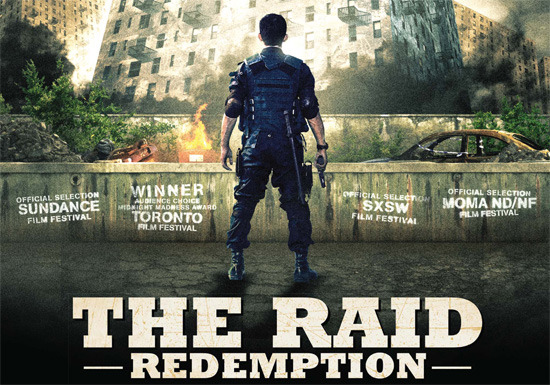 Enthusiasm for Gareth Evans' film The Raid, about a police assault on a tenement building held and fortified by a drug/crime lord, shows no sign of abating. The film has been earning fans in droves since premiering at TIFF last year. It just played SXSW where it converted more fans.
The Raid opens in the US as The Raid: Redemption, on March 23. (Some markets will have to wait a week or two; Atlanta, for example, gets it on April 6.) But we've known that Evans has at least one sequel in mind, and at SXSW he talked a bit about his plans, expanding what we already knew.
The recap is that Evans conceived of a film called Berendal before doing The Raid, but had to come up with a movie that he could make for less money. That was The Raid, but he eventually worked out a way to connect the films, and so Berendal will be created as the sequel to The Raid, and released in the US as The Raid: Retaliation. Sony Pictures Worldwide Acquisitions has already picked up distribution rights for the sequel, which will re-team Evans and actor Iko Uwais.
At SXSW, Evans talked to THR and explained his plans in more detail. Evans said that he really wants his cinematographer Matt Flannery to shoot the sequel, and that he wants Yayan Ruhain, who played Mad Dog in The Raid, to return as a new character "because we just love watching him fight."
He also explained that "over the course of setting up The Raid we designed all of this choreography previously and we couldn't use it on it, because we wanted to keep it for Berendal." But doing The Raid led Evans and his crew to Silak, the Indonesian martial art that provides some of the film's distinctive action, so some things are likely being reworked.
And so while we were doing that project, while we were working on it, I was thinking I want to figure out a way that I can connect these two stories. Initially I only wanted to kind of have like maybe one character who was the same, or that we could kind of have it exist in the same world, just to kind of make it a little more interesting. [But] the biggest problem I had with the Berendal script was the lead character, because he was this ordinary guy in extraordinary circumstances, and then once I realized I could make him an extension of the character in The Raid and make it the cop and make it his story continuing, it excited me more then. So that decision was kind of made before we'd even started shooting The Raid — I knew I wanted to make a sequel way back then. Luckily the response has been such now that we're in a position where we can fund that film now and it will exist as a franchise.