'Bindlestiffs' Red-Band Trailer: The First Film Picked Up By New Kevin Smith Label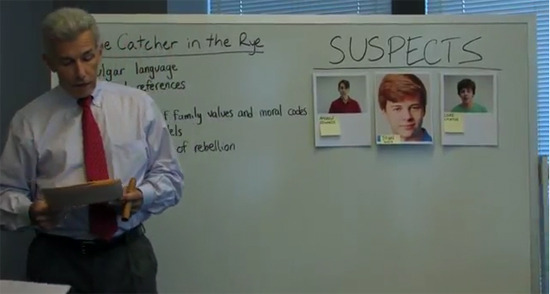 Not long ago, Kevin Smith and a company called Phase 4 announced a distribution partnership, in which Phase 4 would acquire low-budget films and release them under Kevin Smith's SModcast Pictures banner.
The first pickup for the label is the wild high school comedy Bindlestiffs, directed by Andrew Edison, co-written by Luke Loftin and starring Loftin, Edison, John Karna and Will Fordyce. It premiered at Slamdance this past January. There the film, which features three teen virgins with ambitions to live out the plot to The Catcher in the Rye, won the Audience Award for Best Feature Narrative at Slamdance, and will play SXSW.
Check out a trailer for the comedy below.
This red-band clip, which starts off fairly innocuous before turning into a montage of weird sex and desperate behavior, is a few months old. But it should get the idea across.
REMOVED
Kevin Smith said today,
[Bindlestiffs is] a ballsy high school comedy that was conceived by real, live high schoolers (who are actually way funnier than the 20-something adults who usually play teens in movies)! This mind-bendingly original and gut-bustingly hysterical first film is so confidently made and one-of-a-kind, I cannot wait to stand on a stage beside the 'Bindlestiffs' boys and smell the room after the audience has pissed themselves laughing at their debut film.
Here's the basic detail about the plans for SModcast Pictures:
Phase 4 and SModcast Pictures' distribution partnership, which was announced in early 2012, will allow Phase 4 to acquire exclusive rights to exhibit and distribute up to twelve films per year under Smith's banner. Phase 4 will release four of these films theatrically each year, and these will include a live tour with Kevin Smith. To submit a film for consideration under the "Kevin Smith's SModcast Pictures Presents" label, please email SMacquisitions@phase4films.com.