Natalie Portman In Early Talks For Ridley Scott's 'The Counselor,' Javier Bardem Is Likely Villain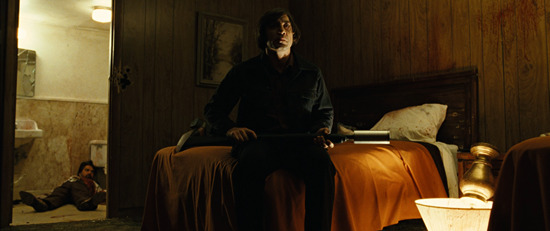 How wild will it be if Javier Bardem plays the villain in another tense drug-related thriller cooked up by author Cormac McCarthy? The writer recently sold a screenplay called The Counselor, which Ridley Scott will bring to the screen with Michael Fassbender playing an attorney who tries to get into the drug trade just a little bit, only to find himself in deep trouble.
Now Bardem and Jeremy Renner are reportedly the last men standing in competition to be the movie's bad guy, with Bardem favored by Scott. And Natalie Portman is looking like Scott's choice to play the fiancee of the lead character.
Twitch reports all the 'in talks' status updates, and says that Bardem and Renner are in preliminary talks to play Reiner, the villain, described in a script rundown by The Playlist as follows:
A criminal acquaintance/client of The Counselor, who drags him into the underworld, Reiner had done pretty well out of the drug trade so far, living an opulent life that includes his two pet cheetahs. He's something of a racist, and is wounded by his last girlfriend leaving him for, in his words "a negress," but is deeply in love with Malkina, even while he knows that he can't trust her at all, and suspects that she'll one day be his undoing.
Scheduling issues could likely determine the specific casting choice, so the question is, with the film's start date looming in May, will Bardem be completely free of responsibilities to Skyfall? (More than likely the answer is yes.) Might be worth noting that in the same script rundown, the site says that Bardem doesn't seem like the best pick for the role, but we'll let Ridley Scott decide that.
Meanwhile, Natalie Portman is in talks to play Laura, described in the aforementioned script rundown as "the Counselor's fiancee, [sadly] a little underwritten in the script. That being said, she's got some intriguing character traits, and a couple of great scenes."
(Think of Kelly Macdonald's role in No Country For Old Men as a guide, and in that case it makes sense that Portman might angle for this role, as it will be a relatively low-impact gig in a film that will get a lot of attention.)
There are a couple big parts left to cast: a mysterious guy named Westray, and Reiner's female associate Malkina, mentioned above. The latter is going to be the most important, and we don't have any info on her casting yet.