Dwayne 'The Rock' Johnson In Talks For 'Journey 3'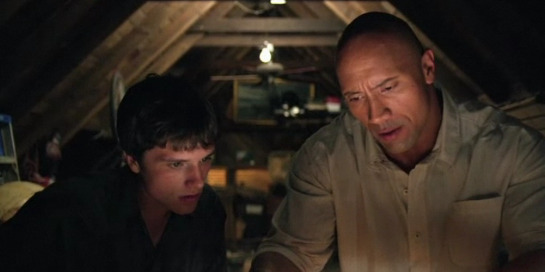 Since making the movie from the ring to the big screen, Dwayne 'the Rock' Johnson has tried to balance teen to adult-skewing action movies with more family-friendly fare. His latest family outing was Journey 2: The Mysterious Island, in which he essentially took the place of Brendan Fraser, who had starred in the 2008 Journey to the Center of the Earth 3D.
Journey 2 was dinged by critics left and right, but it did well enough, especially internationally, to out-perform the first film. (3D ticket surcharges, which weren't as high in many markets when the first movie was released in 2008, likely helped.) So New Line is already assembling a third film based (kinda) on the writings of Jules Verne.
Earlier this week director Brad Peyton and screenwriters Brian Gunn and Mark Gunn were signed to make the threequel, and now Dwayne Johnson is in talks to join them.
The Wrap says that Johnson would reprise the role of Hank, and says that "according to reports" Josh Hutcherson will also reprise his role from the first two films. Hutcherson is likely signed for three films, so if New Line wants him back, he may not have much choice.
We don't know any specifics about which Verne story the Gunn writing team will adapt for Peyton, but the director said this earlier this week:
I grew up a fan of Verne, so I know a lot about the mythologies... Mysterious Island was one of eight or nine really seminal works. I know we've just scratched the surface of what we can do. This one's going to be a lot bigger. We're going to go to a completely different world. It's just going to be a bigger experience, and we're going to grow the mythology. Journey 2 was about rebooting a franchise; now it's about making the seminal work in the franchise.