Bryan Cranston, Anna Kendrick, And Miles Teller To Star In Comedy 'Get A Job'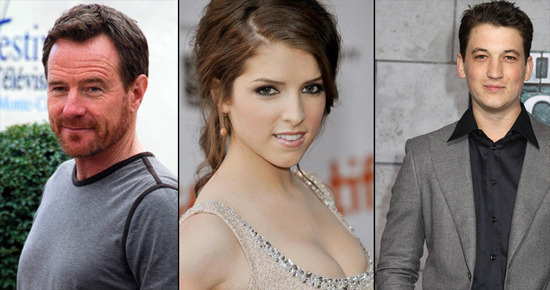 CBS Films has just announced the cast for a generational comedy tentatively called Get a Job, from director Dylan Kidd (Roger Dodger, Children's Hospital) and the company has roped in quite a few great names.
Bryan Cranston (who is familiar with characters who know a thing or two about making money in a difficult economy), Anna Kendrick, and Miles Teller (Footloose, Project X) are the top cast. Nick Braun (Prom), Alison Brie (Community), Brandon T. Jackson (Big Mommas: Like Father, Like Son, Tropic Thunder), Christopher Mintz-Plasse (Fright Night, Superbad) and Jay Pharoah (SNL) are all set to co-star.
More details follow.
The press release says the Kyle Pennekamp and Scott Turpel script is about "four recent college graduates who discover that their lofty expectations and the realities of adulthood are two very different things."
Here's a cast breakdown:
Miles Teller: Will Davis, who finds his true calling after struggling through an entry level job.
Anna Kendrick: Jillian Stewart, Will's type-A girlfriend, who lives her life according to the strictest of plans.
Bryan Cranston: Roger Davis, Will's father who is hunting for a job at the same time as his son.
Braun, Mintz-Plasse and Jackson will play Will's three friends, each of whom find careers with some interesting results.
Alison Brie: Tanya, one of the group's sharp-witted co-workers.
Jay Pharoah: Skeezy D, who starts his own recession-proof business.
Get a Job may get a new title before the film is released, but the film is scheduled to shoot starting next week in LA.