TV Bits: 'Parks & Recreation' Shoots Multiple Endings, 'Community' Short Debuts, 'Justified' Renewed, Showtime Developing 'You Kill Me'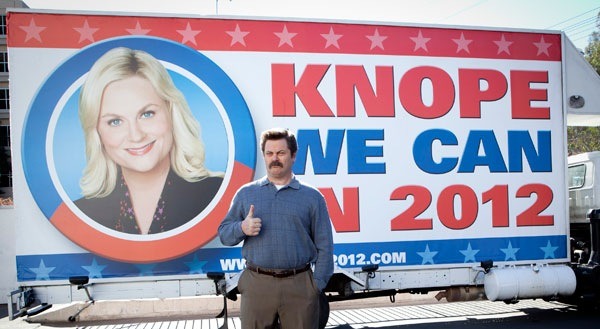 Everything in today's TV Bits looks awfully familiar, I suppose because it concerns three current critical favorites and an upcoming show with a recycled premise. After the jump:
Parks & Recreation shoots multiple Season 4 endings
Community's animated shorts hit the web
Justified gets a fourth-season renewal
Showtime develops a TV version of You Kill Me
The series recently finished production on its fourth season, with the finale scheduled to air in May. NBC has yet to renew the series for a fifth season, but Schur maintained at PaleyFest that the producers were remaining "cautiously optimistic." [THR]
In better news on the renewal front, FX has given a 13-episode fourth season to critical favorite (and /Film obsession) Justified. The current third season, which will end April 10, has seen an 8% increase in viewers over the second season. "Justified is one of television's best series and this season has reinforced that excellence," said VP of Original Programming Nick Grad. "Their work is validated by universal acclaim, awards, and ratings that have grown every year. We look forward to many more seasons to come."
And now I will use this news as an opportunity to plug our own Dave Chen's recent interview with creator Graham Yost, which you can listen to here. [TV Line]
Speaking of things that are returning, there's just one week left until NBC's Community returns from its hiatus — but impatient fans can spend a little bit of quality time with Greendale's most beloved study group right now. The first of the animated shorts promised earlier this week have hit the web, and you can watch it below.
Community will resume its third season March 15 at 8:00 PM. [TV Line]
The last bit of TV info today also concerns a familiar property, as Showtime has started development a TV drama version of the film You Kill Me. Directed by John Dahl, the 2007 movie centered around a hitman (played by Ben Kingsley) whose alcoholism gets in the way of his profession. After botching one too many assignments, he's sent to AA to clean up his act. Christopher Markus and Stephen McFeely, who penned the original screenplay, will write and executive produce the TV adaptation. [Deadline]