Acquisitions: Sony Classics Takes Sundance Hit 'Smashed,' Plus Pickups For 'Grabbers' And 'Neighboring Sounds'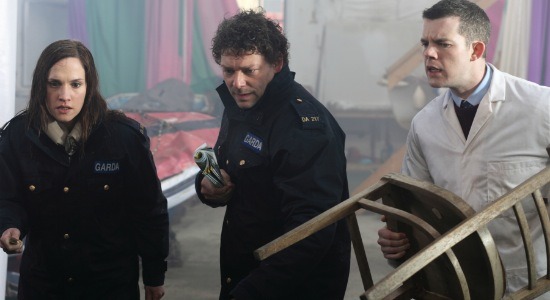 Three festival favorites have just gotten U.S. distribution. The most exciting piece is confirmation that Sony Pictures Classics has, indeed, picked up James Ponsoldt's Sundance hit Smashed starring Mary Elizabeth Winstead and Aaron Paul. Also, IFC Midnight acquired the Sundance horror comedy Grabbers (above) and Cinema Guild will release Rotterdam Film Festival winner Neighboring Sounds, by Mendonça Filho. Read more about all films, two of which I've seen, after the jump.
We'd already written that Sony Pictures Classic was likely to distribute Smashed, now it is official according to Deadline. The film follows a young woman (Winstead) who decides to sober up after living for years with a husband (Paul) and friends who are constantly drinking. Paul is very good in the film but the real revelation is Winstead, who turns in a powerful, fearless performance – the best of her young career so far. While Peter called Smashed "a must see" when he saw it at Sundance, I'd dial that back a notch and say Winstead's performance is a must-see, the rest of the film doesn't quite rise to her performance. It's solid though. There's no word when Smashed could get a release.
Next up, The Hollywood Reporter announced that IFC Midnight will distribute the Irish horror comedy Grabbers, directed by Jon Wright. Grabbers also premiered at Sundance this year and is about aliens invading Ireland. The catch is, the aliens can only be combated by getting very, very drunk. (It would actually make a pretty messed up double feature with Smashed if you think about it.) While the premise sounds like a ton of fun, I never felt like Grabbers truly embraced its wackiness. Instead the film comes off too methodical and flat for a movie about aliens and alcohol. You can find out for yourself when IFC releases the film later this year.
Finally, a film that didn't play at Sundance — but won an award at the well-regarded and influential Rotterdamn Film Festival — is also going to get a stateside release. Mendonça Filho's Neighboring Sounds has been picked up by Cinema Guild for release this summer. Here's the plot description:
Life in a middle-class neighborhood in present day Recife, Brazil, takes an unexpected turn after the arrival of a private security firm. Intended to bring a sense of safety and calm, the mysterious firm instead exposes the residents' long-repressed discontents and anxieties, setting in motion a series of events that will forever change this once sleepy community. With an ensemble cast that delivers a remarkable performance and writing that constantly keeps you guessing, "Neighboring Sounds" peers inside a culture that revolves around paranoia, fear and revenge.
Sounds like it could potentially be the best of these three films listed. Which of the three are you most excited for? Did you see either Smashed or Grabbers at Sundance?