'Animal House' Heading To Broadway With Music By Barenaked Ladies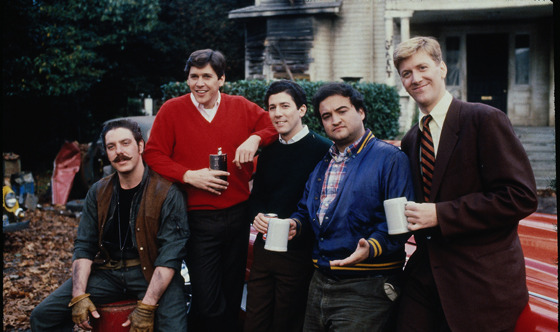 You can almost hear the rhythmic chants of "Toga, Toga, Toga" bellowing in the rafters already. The New York Times reports John Landis' landmark 1978 comedy, Animal House, is being adapted into a Broadway musical with help from Canadian rockers Barenaked Ladies and Book of Mormon co-director Casey Nicholaw. Universal Pictures Stage Productions announced the production on the 30th anniversary of the death of the film's star John Belushi. Read more after the break.
Though the New York Times story (via The Playlist) has no information on casting or when Animal House: The Musical might make it to the stage, they do confirm most of the creative team. It'll be directed and choreographed by Nicholaw (who won a Tony with Trey Parker for Book of Mormon) from a book (that's the script on Broadway) by Michael Mitnick and all the music will be done by Barenaked Ladies. Several producers are also listed.
While the idea of transforming a comedy that was so influential and formative to so many into a Broadway musical seems absurd at first glance, maybe Broadway is embracing the naughty. We've already see that The Book of Mormon has been setting all kinds of records and Animal House, while likely lacking the message of that show, certainly has potential to be equally offensive and fun. All of the classic scenes are almost musical numbers already: the toga party, food fight, "Shout," the parade. It seems – in an odd way – like a natural fit.
Even more so than a film, Broadway shows can take a long time to gestate so don't expect this one anytime soon. But when, and if, it does happen, don't immediately pop it like a zit.
 Image: FilmBuffOnline