'We Have A Pope' Trailer: What If The Guy Chosen To Lead The Faithful Didn't Want The Job?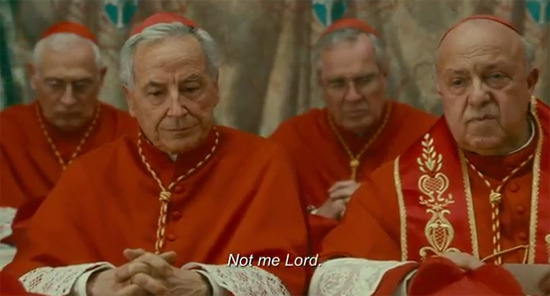 It is sad to me that reviews of We Have a Pope weren't all that positive when the film premiered at Cannes last year. Because this trailer features a couple of great concepts that could be the basis for a funny and thoughtful film.
The core idea is that, after the death of the Pope, a Cardinal (Michel Piccoli) totally inexperienced with the spotlight is chosen to be the new pontiff. (Mostly because no one else seems to want the job.) He freaks out and tries to skip out of the Vatican, and a psychologist (Nanni Moretti, who also directed) is brought in to counsel him. Shades of The King's Speech, The Sopranos, The President's Analyst, and probably ten other films you could eventually list. But some moments, particularly the first section with the election of the new pope, look promising. Check out a trailer below.
If reviews from Cannes '11 are to be believed, the best bits of the film are that first section, and the end, with the middle meandering quite a bit. I hope that's not quite correct, but even if it is I still want to check out the film's first act, at least.
Sundance Select will open We Have a Pope in a limited run April 6th, with a VOD bow on April 11th.
In his latest comedy, WE HAVE A POPE, Palme d'Or-winner Nanni Moretti (THE SON'S ROOM) joins forces with the great French actor Michel Piccoli (CONTEMPT) to tell the story of Melville, a cardinal who suddenly finds himself elected as the next Pope. Never before in the spotlight and completely caught off guard, he panics as he's presented to the faithful in St. Peter's Square. To prevent a worldwide crisis, the Vatican calls in an unlikely psychiatrist who is neither religious or all that committed, played by Moretti, to find out what is wrong with the new Pope and come to a solution. WE HAVE A POPE gives marvelous insight into the concept of a human being existing behind the title of God's representative on Earth, approaching a serious topic with Moretti's wonderful blend of humor and humanism.
[Deadline]