New Images: Genndy Tartakovsky's 'Hotel Transylvania' And 'The Croods' From DreamWorks Animation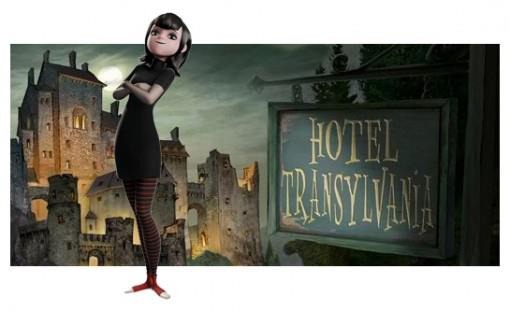 Here are new images for a couple of upcoming CG animated features. One is Sony's Hotel Transylvania, featuring the efforts of Dracula (Adam Sandler) to celebrate the birthday of his daughter Mavis (Selena Gomez), which end up being complicated by the attentions of a regular ol' human (Andy Samberg). The movie is directed by Genndy Tartakovsky (The Powerpuff Girls, Samurai Jack, Star Wars: Clone Wars) which for me at least, represents the primary appeal of the project.
There's also The Croods from Dreamworks Animation, featuring the voices of Nicolas Cage, Ryan Reynolds, Emma Stone, Catherine Keener, Clark Duke, and Cloris Leachman in a story about a prehistoric family of early humans.
New looks at both films showed up this week. That's Mavis from Hotel Transylvania, above, and we've got a big image for The Croods below.
The header image comes via Facebook, and Collider has this tiny little promo poster for Hotel Transylvania, which does show that Dracula bears a real resemblance to Adam Sandler.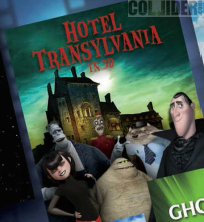 Sony describes Hotel Transylvania, which opens on September 21, like so:
Welcome to the Hotel Transylvania, Dracula's (Adam Sandler) lavish five-stake resort, where monsters and their families can live it up, free to be the monsters they are without humans to bother them.  On one special weekend, Dracula has invited some of the world's most famous monsters – Frankenstein and his bride, the Mummy, the Invisible Man, a family of werewolves, and more – to celebrate his daughter Mavis's 118th birthday.  For Drac, catering to all of these legendary monsters is no problem – but his world could come crashing down when one ordinary guy stumbles on the hotel and takes a shine to Mavis.
And then there's The Croods, directed by Chris Sanders and Kirk DeMicco and set to open in March 2013. The image below comes via Facebook, which also supplies the following synopsis:
The Croods is a 3D comedy adventure from DreamWorks Animation that takes us back to the beginning – to a previously undiscovered era known as the Croodacious – a time when Mother Nature was still experimenting and the flora and fauna we know today hasn't evolved yet. At the heart of this comedically chaotic world is the Crood family, led by Grug (Academy Award® winner Nicolas Cage), an over-protective father who, like all dads, is doing all he can to hold his family together as the world around them changes at a dramatic pace.
Together with his wife (Catherine Keener), kids (Emma Stone and Clark Duke) and ornery mother-in-law (Cloris Leachman) in tow, Grug guides his family through this spectacular environment, full of amazing creatures, to find a new cave to call home. Along the way, they encounter Guy (Ryan Reynolds), an imaginative and resourceful newcomer who takes risks and wholeheartedly embraces the promise of tomorrow. Audiences will relate to the hilarious family antics as Guy helps the Croods navigate their way into the bright future.