'Muppets' Sequel Moving Forward, But Jason Segel Won't Write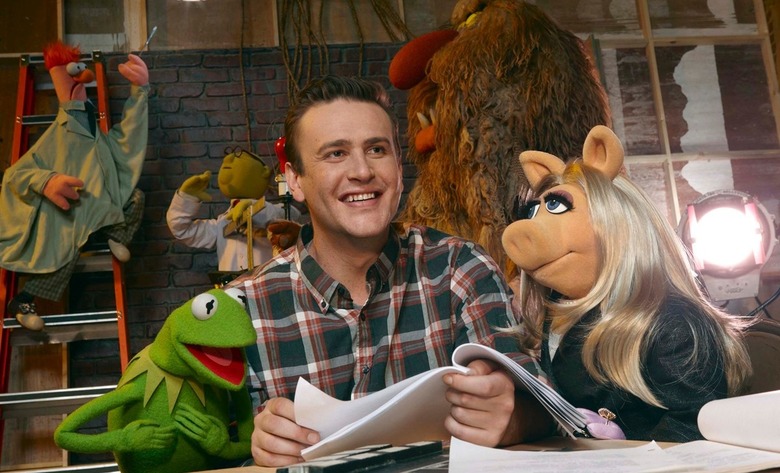 It's not like Kermit, Miss Piggy, and the gang ever totally disappeared from the public eye, but last fall's The Muppets definitely went a long way toward reinvigorating the franchise for a whole new generation. The film was a hit both critically and commercially, and it's in no way surprising that Disney's now getting the pieces together to move forward on the sequel.
What's disappointing, however, is that it seems Jason Segel — who not only starred in, but also wrote and executive produced the The Muppets — won't be involved in a screenwriting capacity. (Don't freak out, Gary fans — it's still possible he'll star.) Instead, Muppets director James Bobin and original co-writer Nicholas Stoller have closed a deal to pen the script. More details after the jump.
Segel has spoken at length about his passion for the Muppets, and it's well known that he was instrumental in bringing the characters back to the big screen for the first time since 1999's Muppets in Space. So it's a bit of a downer to hear that he'll be sitting out the writing duties this time around, With Stoller and Bobin still on board, I'm hopeful the new project will be able to retain much of the last one's charm.
Vulture points to scheduling issues as the reason Segel won't be writing. While that's an excuse that gets tossed around a lot, it does seem like a very reasonable explanation in Segel's case. In addition to his ongoing work on CBS' How I Met Your Mother, Segel also has Jeff Who Lives at Home, The Five-Year Engagement, and This is Forty due to hit theaters this year, and he's juggling a few other writing projects at the moment as well.
Happily, it seems his non-Muppets commitments aren't so strenuous as to keep him out of the movie together. According to insiders who spoke with Vulture, Segel could still act in the film, depending on how Stoller and Bobin's script works out.