'Bernie' Trailer: Jack Black Is Just The Nicest Murderer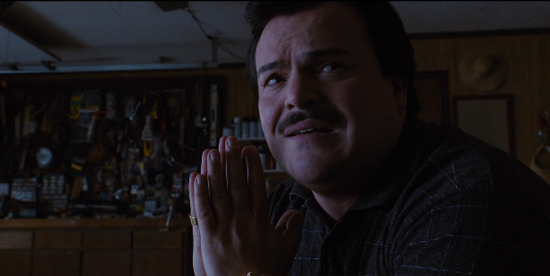 Richard Linklater's new film Bernie is a strange thing: a sort of comedy based on a true story in which a well-liked small town mortician, played by Jack Black, befriended a not-so well liked older widow, played by Shirley MacLaine... and reportedly murdered her. But it isn't just the story that is strange: Bernie is co-written by Skip Hollandsworth, who wrote the Texas Monthly article that inspired the film, and it features interviews with the residents of the town where the actual story took place.
The new trailer for the film, which premiered last year at the LA Film Festival and will soon play SXSW, shows the movie's comic tone, but also points to a more interesting aspect, thanks to the inclusion of some of the interviews with actual residents.
Some of the tone of the trailer is too lightly comic, but I can see the movie turning out to be a more layered narrative thanks to the inclusion of the almost-documentary elements. I'm hoping for this as an upswing for Jack Black, and it's nice to see Matthew McConaughey in another role that plays to his strengths.
Yahoo will give you the HD trailer. A very extensive synopsis follows. Bernie will open on April 27.
In the tiny, rural town of Carthage, TX, assistant funeral director Bernie Tiede was one of the town's most beloved residents.  He taught Sunday school, sang in the church choir and was always willing to lend a helping hand. Everyone loved and appreciated Bernie, so it came as no surprise when he befriended Marjorie Nugent, an affluent widow who was as well known for her sour attitude as her fortune. Bernie frequently traveled with Marjorie and even managed her banking affairs. Marjorie quickly became fully dependent on Bernie and his generosity and Bernie struggled to meet her increasing demands. Bernie continued to handle her affairs, and the townspeople went months without seeing Marjorie. The people of Carthage were shocked when it was reported that Marjorie Nugent had been dead for some time, and Bernie Tiede was being charged with the murder.
In this dark comedy, director Richard Linklater captures all the hilarity, friendliness, eccentricity and absolute strangeness of small-town Texas life.  Jack Black plays Bernie Tiede, Shirley MacLaine plays Mrs. Nugent, and Matthew McConaughey plays the town's blustery real-life District Attorney, Danny Buck Davidson, who was determined to get to the bottom of the crime.  Co-written by Linklater and Skip Hollandsworth, BERNIE is a Mandalay Vision and Wind Dancer Films production.