Sequel Bits: 'Men In Black 3', 'Mad Max: Fury Road', 'Star Trek 2', 'Cloudy With A Chance Of Meatballs 2', 'Percy Jackson & The Olympians: The Sea Of Monsters', 'Friday 4'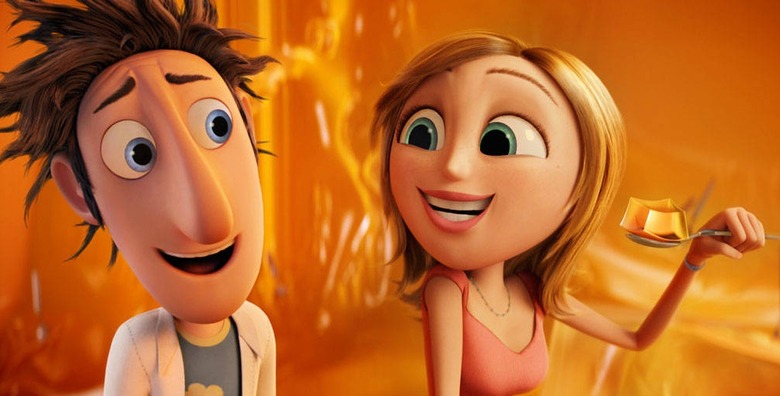 We've got a lot of odds and ends to cover in today's Sequel Bits, so let's get right to it. After the jump:
MIB3 helmer says shooting with an incomplete script was either "genius" or "really stupid"
Vehicles from Mad Max: Fury Road revealed
Benedict Cumberbatch says lovely things about his Star Trek 2 colleauges
Cloudy With a Chance of Meatballs 2 may have a new title
Percy Jackson casts stars from Community, Reno 911!, and Dodgeball
Chris Tucker is not so excited for Friday 4
We knew starting the movie that we didn't have a finished second or third act. Was it responsible? The answer is, if this movie does as well as I think it will, it was genius. If it's a total failure, then it was a really stupid idea.
Rick Baker, who also worked on the film, chimed in as well.
It was a crazy production. We had a writer actually on the soundstage writing the words moments before the guys had to say them. I don't think that's any way to make a movie. But I've seen a rough cut and I was actually shocked at how good it was.
Frankly, neither of those comments are very encouraging. Even if Sonnenfeld lucks out and MIB3 turns out well, pressing on without a script seems more foolhardy than "genius."
Sonnenfeld also hinted that (potential spoiler alert) MIB3 might not be the last we see of Josh Brolin as young Agent K, saying "now we've got Josh Brolin to carry on with Tommy's part." Feel free to speculate on what that might suggest about the plot of MIBs 3 and 4. MIB3 hits May 25. [Collider]
George Miller's Mad Max: Fury Road hasn't started shooting just yet, but we've got an early glimpse at some of the vehicles that'll be featured right now. Take a look:AICN reader David, who sent in the images, says the photos "were taken at a railroad crossing on the road to Cape Cross, Namibia, presumably where filming will take place." Check out two previously revealed vehicles here.Star Trek 2 star Benedict Cumberbatch has been careful to keep details on his character and the plotline under wraps, but he's a lot more forthcoming about how much he's enjoyed being on set:
I think they are brilliant on that show, and it's a real privilege to be on that set. There's a patter and a kind of knowledge of who they're playing and the other main characters, which I'm learning a lot from. It's just good fun. It's great to work with Chris [Pine]. He's a real professional. So is Zach, who I've been working a lot with this week. I adore him, he's a brilliant, brilliant guy...
My part of the film is really sorta kicking in now. It's great fun, great, great fun. But what I'm trying to say is it's a great thing to come into something that everybody's familiar with and knows each other very well. So it's [in] a weird way a very easy thing to get up to speed with, because everybody is so welcoming and gets along with one another.
Head to MTV to watch the video.
Some time ago, we heard that the sequel to Phil Lord and Chris Miller's Cloudy With a Chance of Meatballs could be based on Pickles to Pittsburgh, the literary follow-up to the children's book from which the first book was adapted. I don't know whether that's changed, but it appears the title, at least, has. Collider has posted a picture of a promo poster for the upcoming sequel, which now appears to be going by the title Cloudy 2: Revenge of the Leftovers.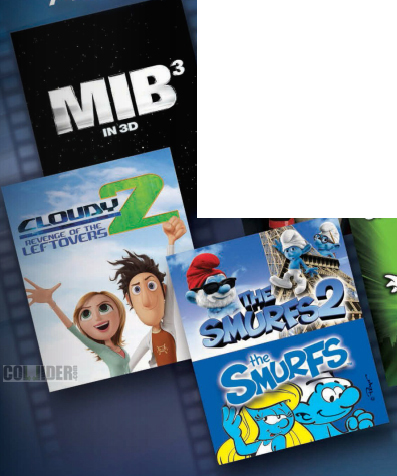 Cody Cameron and Kris Pearn, animators who worked on the last film, will direct. No release date has been announced at this time.
I don't think Percy Jackson is intended as a comedy franchise, but star Logan Lerman's about to get some very funny company in Percy Jackson & The Olympians: The Sea of Monsters. Yvette Nicole Brown (Community), Missi Pyle (The Artist, Dodgeball) and Mary Birdsong (Reno 911!, The Descendants) have boarded the cast of the upcoming adventure, a sequel to 2010's Percy Jackson & the Olympians: The Lightning Thief. The actresses will be playing the three Fates.
Thor Freudenthal is directing The Sea of Monsters, which will also feature returning stars Alexandra Daddario and Brandon T. Jackson. Fox has set a release date of March 27, 2013 for the film. [THR]
Last year, Ice Cube made it known that he was working on a fourth Friday movie for New Line, but it seems one of his original co-stars is somewhat less eager to return to the franchise. Chris Tucker, who starred in the first Friday but did not appear in the subsequent films, told MTV that it's unlikely he'll appear in the new film.
"I'll never say 'never,' but I doubt it because it's something that I did so long ago, and I moved on," Tucker said. "But I appreciate everyone loving it that much that they want to see another one. We'll see."
The original Friday was the project that gave Tucker his first big break, but Tucker opted to sit out the rest of the series after becoming a born-again Christian in the late '90s. While it would've been fun to see him and Ice Cube team up again, I can't blame the guy for sticking to his religious convictions. Or maybe he just wants to move on to different types of projects — his next big screen appearance will be in David O. Russell's Silver Linings Playbook, due out in November.