Watch Stan Winston's 'Jurassic Park' And 'AI' Special Effects Tests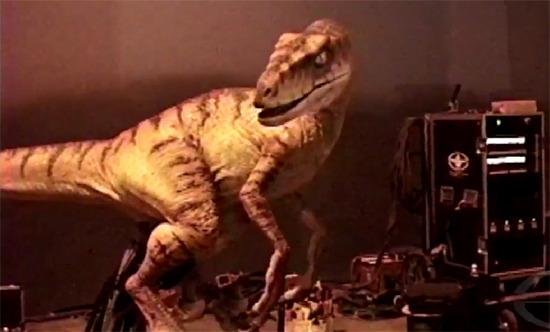 Those who have devoured special features on DVDs over the years may be familiar with most of what follows, but that doesn't change the fact that there is never a bad time to take a moment to appreciate the details of a specific art form.
Creating animatronic models for special effects sequences in film is a very specific art form, and arguably no one was better at it than the late Stan Winston. His studio is now associated with an online school that provides effects tutorial videos, and that school has posted a collection of old animatronic effects tests on YouTube.
Sadly, these test clips won't actually show you the nuts and bolts of how, say, a velociraptor model is made and controlled. But there is still a revelation in seeing these models removed from the context of the films in which we first saw them. The stark background of a studio or warehouse only enhances the artistry involved in  bringing the models to life.
Keep an eye on the section of the Stan Winston School's YouTube channel dedicated to archival videos, as more may surface. In the meantime, here are videos showing animatronic tests for the Jurassic Park films and for AI. That page also has a clip for a throat-cutting test for Interview With the Vampire, and an Aliens queen model test that has been seen many times in the past.