Kristen Wiig Attached To Action Comedy By 'Descendants' Writers Nat Faxon And Jim Rash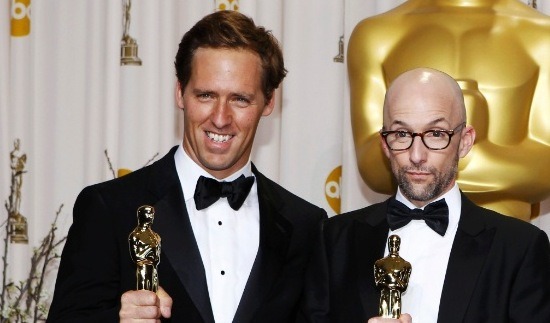 Until recently, Jim Rash and Nat Faxon were mainly known for their work in front of the camera. But their screenwriting work for last year's The Descendants changed that, and with this weekend's Best Adapted Screenplay win, the future's looking brighter than ever for the pair.
Among their several upcoming projects are an action comedy recently picked up by Indian Paintbrush, which has Kristen Wiig attached to star. In addition, there's also another collaboration with Alexander Payne in the works, and a directorial debut with Sam Rockwell and Allison Janney set to star. More after the jump.
Faxon and Rash have been on a hot streak lately, and are also currently working on another script for Payne and Fox Searchlight. For the past several months, they've also been preparing to direct The Way, Way Back this summer, from their own 2007 Balck List script. They haven't given up on acting, either — Rash will return to the small screen when NBC's Community ends its hiatus next month, while Faxon was cast earlier this week in the Fox pilot Ned Fox is My Manny.
For her part, Wiig's been enjoying her own career boost since the success of Bridesmaids. She's got Friends With Kids, Imogene, and Revenge for Jolly! all due out this year, with The Comedian, Freezing People is Easy, and The Secret Life of Walter Mitty lined up beyond that. A collaboration with Faxon and Rash seems like an intriguing addition to her already crowded — but very promising — slate.
[Source: Variety]