WonderCon 2012 Announces Movie Panels: 'Sound Of My Voice,' 'Battleship,' Possibly 'Prometheus' And More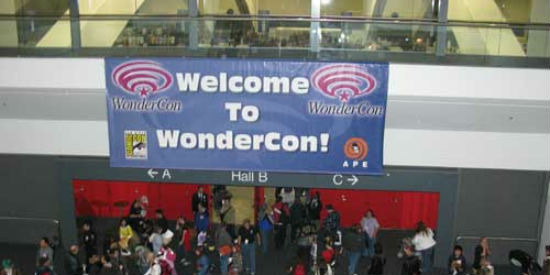 WonderCon, usually a staple of Northern California, has migrated south for one year only. The 2012 edition takes place March 16-18 at the Anaheim Convention Center in Anaheim, CA. While not the pop culture powerhouse of its San Diego counterpart, WonderCon's Saturday schedule does include some very cool movie related panels. Plus, unlike Comic-Con, tickets are still available just over two weeks before the event. Read about the panels and more after the jump.
For the full, three day schedule, click here. But here are the Saturday movie panels:
12:30-1:15 Fox Searchlight: The Sound of My Voice
Producer, writer, and actress Brit Marling is a rising talent and new voice in the genre world, creating independent films about everyday people finding themselves in fantastic circumstances. In her new film, The Sound of My Voice, Peter (Christopher Denham) and Lorna (Nicole Vicius), a couple and documentary filmmaking team, infiltrate a mysterious group led by an enigmatic young woman named Maggie (Brit Marling). Intent on exposing her as a charlatan and freeing the followers from her grip, Peter and Lorna start to question their objective and each other as they unravel the secrets of Maggie's underworld. Appearing in person: star, producer, and co-writer Brit Marling (Another Earth), and the film's director/co-writer Zal Batmanglij.Ballroom, Third Level
1:15-2:15 Twentieth Century Fox
Twentieth Century Fox (and some very special guests) presents an exclusive look at some of the most anticipated events of the summer.Ballroom, Third Level
2:30-3:15 Open Road Films: Lockout
Global exclusive! Be among the first in the world to see footage of the highly anticipated new film, Lockout. Starring Guy Pearce (Memento, The King's Speech, upcoming Prometheus) and Maggie Grace (Taken, Taken 2, The Twilight Saga: Breaking Dawn, Parts 1 & 2). Set in the near future, Lockout follows a falsely convicted ex-government agent (Pearce), whose one chance at obtaining freedom lies in the dangerous mission of rescuing the President's daughter (Grace) from rioting convicts at an outer space maximum security prison. Lockout was directed by James Mather and Stephen Saint Leger from their script, co-written with Luc Besson, who is also a producer. Peter Stormare co-stars.Ballroom, Third Level
3:15-4:15 Universal Pictures: Battleship and Snow White and the Huntsman
Universal Pictures will present footage and special guests from two of its upcoming epic action-adventures: Battleship (May 18) and Snow White and the Huntsman (June 1). Battleshipdirector/producer Peter Berg will be joined by two of the star's from the film, Alexander Skarsgård and Brooklyn Decker, to discuss the project. Snow White and the Huntsman's director, Rupert Sanders, will answer questions about the new movie starring Kristen Stewart, Charlize Theron, Chris Hemsworth and Sam Claflin. Ballroom, Third Level
4:15-5:30 Sony Screen Gems: Resident Evil: Retribution Plus More Sony Films
We learn more about Alice's mysterious past as she continues to hunt those at The Umbrella Corporation responsible for the T-virus outbreak, a chase that takes her from Tokyo to New York, Washington, DC, and Moscow, culminating in a mind-blowing revelation that will force her to rethink everything she once thought to be true. Aided by newfound allies and familiar friends, Alice must fight to survive long enough to escape a hostile world on the brink of oblivion. The countdown has begun. Resident Evil: Retribution stars Milla Jovovich, Michelle Rodriguez, Sienna Guillory, Kevin Durand, Shawn Roberts, and Boris Kodjoe. Appearing in person is Alice herself,Milla Jovovich, who along with writer/director Paul W. S. Anderson will host a preview and discussion of the wildly successful film franchise based on the popular video game series Resident Evil and this highly anticipated fifth installment, Resident Evil: Retribution in state-of-the art 3D. Additional info on other films to come! Ballroom, Third Level
Update: We've been assured that the The Amazing Spider-Man will somehow be part of the Sony panel — and if you didn't notice, the title of the panel promises "more sony films".It seems crazy that Sony isn't presenting Amazing Spider-Man at the event, and that 20th Century Fox event just screams Prometheus, right? Though we'll probably have to sit through The Three Stooges to get to Ridley Scott's movie, if indeed it is there. And I think it's a great idea for Searchlight to feature Sound of My Voice. That'll be fun.
If you'd like to attend WonderCon, click here to purchase a badge. It's very affordable. And say hi to me and Peter as we'll be in the Ballroom covering these events.