First Real Trailer For HBO's 'Veep' Unveiled, Plus Another New Trailer For Lena Dunham And Judd Apatow's 'Girls'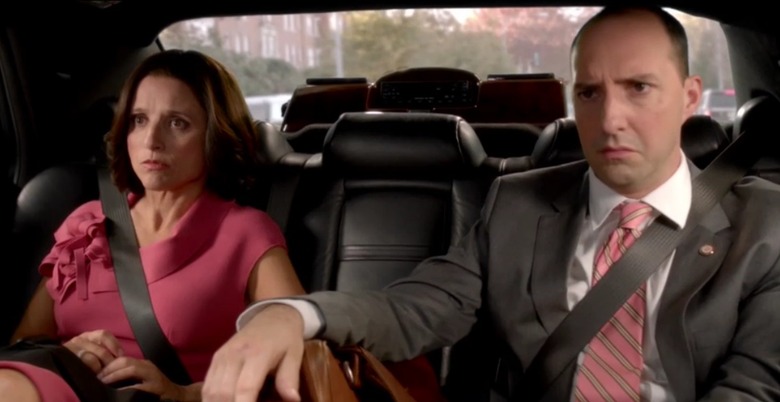 Well, it's about time. A couple of months ago, we got an amusing first teaser for HBO's Veep, and last week saw the release of a short featurette from the set. But it's only now that we're finally getting a real look at the series, a political satire of contemporary American politics from In the Loop director Armando Iannucci.
Julia Louis-Dreyfus stars as a senator who wins the office of vice president of the United States, only to find that the job isn't at al what she expected. Also starring are Anna Chlumsky, Matt Walsh, Sufe Bradshaw, and Tony Hale (looks like all that schooling finally paid off for Buster).
In addition, the network has unveiled another new trailer for Girls, Lena Dunham (Tiny Furniture) and Judd Apatow's comedy about twentysomething women trying to make it in the big, bad city. Watch the videos after the jump.
I've been looking forward to Veep for months, and am thrilled to see that the first actual trailer lives up to my expectations. Louis-Dreyfus' face when the White House liaison (Tim Simons) shows up to deliver some potentially major news is just priceless, and Hale looks to be doing fine work as always. I'll definitely be watching when Veep hits April 22 at 10:00 PM.
As for Girls, I think this third promo may be the best one yet. Based on what we've seen so far, it looks like Dunham strikes the perfect balance between sympathizing with the characters' genuine pain and poking fun at their whiny self-absorption. When the pilot was first announced back in 2010, Dunham expressed her desire to see "girls my age depicted in a way that felt accurate and honest." As someone who's pretty close to Dunham's demographic, I'd say she's nailed it.
Jemima Kirke, Allison Williams, Zosia Mamet, Adam Driver, and Christopher Abbot round out the cast of Girls, which premieres April 15 at 10:30 PM on HBO.