Here's Why Andrew Stanton Dedicated 'John Carter' To Steve Jobs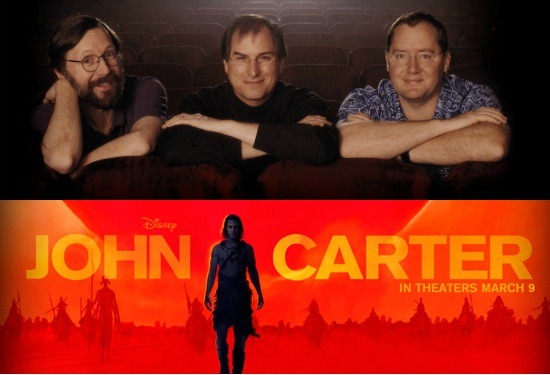 When Steve Jobs died in October of last year, it was a blow to us all. The loss was felt especially hard at Pixar, the successful film company he helped not only create, but isolate from the Hollywood machine. John Carter, directed by one of Pixar's most prolific directors, Andrew Stanton, comes out next week and though it's not Pixar, the film is dedicated to the memory of the legendary businessman and inventor. During the credits, a card says:
Dedicated to the Memory of Steve Jobs, an Inspiration to Us All
At a recent press junket, Stanton was asked why he decided to dedicated Carter to Jobs and his answer was both logisically sound and beautifully poignant. Read it after the jump.
Here's what Stanton said when asked if he'd talk about why the film was dedicated to Jobs:
We just happened to be, sadly, the first production up that was Disney that wanted to give [a dedication]. And I personally wanted to. I talked to John [Lassater] about it because I didn't want to steal any thunder from Pixar's dedication because that's really the real family member for Steve. But it felt right just cause I didn't want too much time to pass without giving him some sort of permanent acknowledgement. And I talked to his wife.
It was kind of eerie because on the set I would get asked all the time, from all these people, 'What Pixar was like?' And it was fascinating to talk to all these movie people that knew all the films, but some of them didn't even know Pixar was in San Francisco. It was funny. They knew of us, they knew of these movies and knew there was something different but they didn't get it to the point [where they knew] where we were and stuff. And it would be such a long explanation to them about, trying to tell them why it ran differently and why the movie came out the way they did, that I ended up just simplifying my answer down to 'Steve. Steve's why.'
And I did really realize how much, because I was now living it. I was now pregnant with the dysfunction of Hollywood to make this movie and how this all works, the good and the bad, and it was amazing to see how much he had firewalled us from. Like we knew he had, but he had truly firewalled us and protected us from all the bad influences of the outside world and we had just been raised in this little eden in San Francisco and had no clue how bad it could be. And so I really have to give so much more credit to him than I ever was, even though I always was, of how much he was a major factor for Pixar.
John Carter, complete with Steve Jobs dedication, will be released March 9. Check back soon for our one-on-one interviews with Taylor Kitsch and Andrew Stanton.