'Project X' Red Band Trailer Dials Up The Debauchery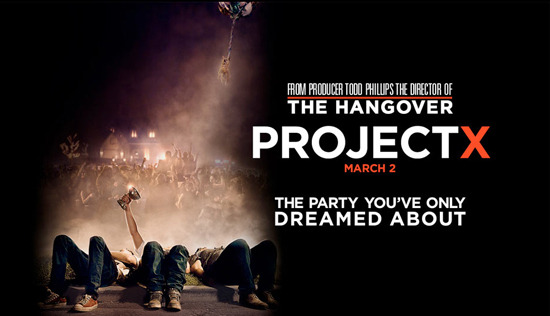 Though the Todd Phillips-produced teen comedy Project X has made tons of promises of epic teenage debauchery, there's only so much you can actually show in a TV spot or green band trailer. To really get an idea of the level of insanity we're in for, you'll want to check out the red-band trailer, which offers up much more in the way of cursing, dick jokes, and nudity. Needless to say, it's highly NSFW. Watch the video after the jump.
As with the previously released videos, Project X either appeals to you or it doesn't. I personally fall into the latter category, though I could imagine a version of myself from ten years ago being way more into it. Still, I have to hand it to the film for going all-out. If you're going to make a movie about the biggest, most badass high school blowout of all time, you'd better not hold anything back. I don't know what there really is to this movie beyond booze-fueled shenanigans — is there even a plot? — but at least it seems to deliver on the premise.
Directed by Nima Nourizadeh from a script by Matt Drake and Michael Bacall, Project X hits March 2, 2012.
Synopsis:
"Project X" follows three seemingly anonymous high school seniors as they attempt to finally make a name for themselves. Their idea is innocent enough: let's throw a party that no one will forget... but nothing could prepare them for this party. Word spreads quickly as dreams are ruined, records are blemished and legends are born. "Project X" is a warning to parents and police everywhere. This film has been rated R for crude and sexual content throughout, nudity, drugs, drinking, pervasive language, reckless behavior and mayhem-all involving teens.