Sequel Bits: David Wain Is Definitely Working On 'Wet Hot American Summer 2' But Can't Guarantee It'll Happen, Plus: 'The Shining 2', 'The Hangover 3', 'Night At The Museum 3'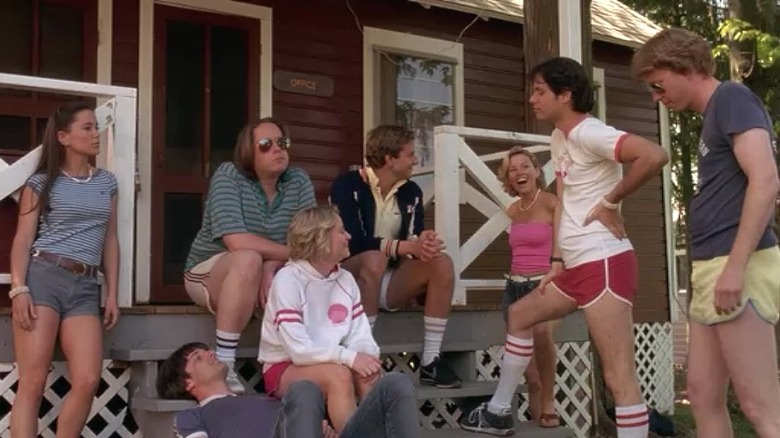 Happy Friday! Today's Sequel Bits involves three comedies of varying degrees of hilarity, plus a spooky-sounding book. After the jump:
David Wain can't guarantee a sequel to Wet Hot American Summer 2, but he's working on it
Ed Helms doesn't really know when The Hangover Part III will get going
Shawn Levy could "very possibly" be directing Night at the Museum 3
Stephen King reads the first chapter of Dr. Sleep, a sequel to The Shining
"What I'm saying is we're writing the script and sort of making the initial preparations," Wain told The Playlist. "No movie is a guarantee until it's in theaters. But we're at that stage of the process and we intend to make it. Can I guarantee that it's going to happen? Of course not."
Among the possible roadblocks are the fact that several members of the cast — including Paul Rudd, Amy Poehler, Elizabeth Banks, and Bradley Cooper — are much, much bigger now than they were a decade ago, with correspondingly larger salary demands. Wain's hope is that the stars enjoyed the last experience enough to return for very little.
"I think we're going to try to approach it the way that we did the first one, which is to shoot it for a very small amount of money and have everybody work basically for free," he said. "Otherwise, if we had to pay the going rate for the entire cast of Wet Hot American Summer, it would probably cost like $75 million dollars. We can't make the movie any other way. None of us will make any money and that's the end of it."
Speaking of Bradley Cooper: Thanks to its astounding performance at the box office, there's really no question that a third installment of The Hangover series is on the way. What's not as certain, however, is when it'll happen. Though we've been hearing that The Hangover Part III would likely get going this summer or fall, star Ed Helms claims he has no idea what the actual start date is.
Asked by Collider for a status update on the project, Helms reponded:
Well, we don't know if we'll start filming yet, for sure. Honestly, we're hopeful and excited, and I think there's a lot of good energy around it, but we're not over the finish line, as far as getting it done. But, as far as when it would happen, I don't know. Really, if we can get everything sorted out, then I imagine it might go quickly, but I don't really know.
The site asked Helms what the hold up was, and he replied that he wasn't quite sure either.
I don't know. I'm a little bit confused, myself. You know, getting any movie made is just like trying to push a giant boulder up a mountain, and there's so many moving parts. Obviously, there's the creative side, and then there's the logistical side, and they're both colossal. Hopefully, we'll align them and get it going.
Either Helms actually is out of the loop, or he just doesn't want to get into details with the press. At any rate, I'm guessing everyone will involved will do whatever they have to in order to get Part III off the ground, so don't worry, Hangover fans. (If indeed there are any of you left after that awful second installment.)
Shawn Levy's got a very busy future ahead of him, with Fantastic Voyage, The Three Misfortunes of Geppetto, Interns, and Frankenstein all on his upcoming slate, but it seems he's thinking of adding one more project. Levy, who directed Night at the Museum and Night at the Museum: Battle of the Smithsonian, revealed that he's now thinking of returning for the third installment of the Night at the Museum franchise.
"Very possibly," he said in response to Collider's question about helming the film. "Got a script. Very possibly. It's really funny, it's very poignant, and it's not just 'Oh what museum are they going to this time?' it's a much meatier story than that."
Of course, Levy's comments are hardly a solid commitment, and given how much other stuff he has lined up I wouldn't be surprised if someone else wound up at the helm. Which is just fine with me — I think his other projects sound way more interesting.
Finally, this doesn't strictly fall into the category of "movie news," but given that Stephen King is involved, it's likely that someone, somewhere, will try to head in that direction at some point. A couple of years ago, King announced a sequel to The Shining, one of his most popular titles.
Titled Dr. Sleep, the book picks up with a grown-up Danny Torrance, now a hospice worker. His mysterious powers make him the target of a group of psychic vampires called The Tribe who want to feed on his energy. King read an excerpt from his novel last November, which you can listen to here, and he's now offered up the beginning of the book as well.