Orlando Bloom And Djimon Hounsou Cast In South African Crime Tale 'Zulu'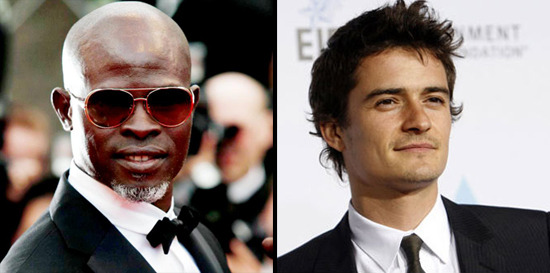 It seems like Orlando Bloom's comeback is going to start...any...minute...now. He took a couple years off, and then did a film that there was reason to anticipate (Mark Ruffalo's Sympathy For Delicious) and a few other projects that were destined to be baby steps back to public awareness more than anything else. (Main Street, The Good Doctor, and The Three Musketeers.)
Bloom has a couple additional films on the horizon: The Laureate; Cities; and a little thing called The Hobbit, in which he'll reprise his breakout role of Legolas. But that role isn't likely to be a particularly big part, and so there's room for something else. So he's added one more project: a South African crime tale called Zulu, in which he'll co-star with Djimon Hounsou.
ScreenDaily says the film will be directed by French filmmaker Jérôme Salle based on Caryl Férey's post-apartheid novel in which two Cape Town cops "work together to fight lawlessness in the city in a post-apartheid era." Salle scripted with Julien Rappeneau. The film should shoot in Cape Town in July.
Djimon Hounsou was freed up to do this project thanks to the demise of Legendary's Paradise Lost, in which he was going to play the Angel of Death. That was postponed from a shoot early this year, to summer this year, and then to, er, never when Legendary and Warner Bros. pulled the plug.
Zulu, the novel, is said to be quite violent; we'll see if that aspect is preserved in the film. Here's the synopsis:
Ali Neuman, the chief of the Cape Town police crime unit, investigates the murder of 18-year-old Nicole Wiese, found one morning in the South African city's botanical gardens with her skull crushed in. Since the victim's father was a member of the Springboks rugby team that won the world championship in 1995, the case attracts heavy press coverage. The trail leads Neuman to an extraordinarily brutal narcotics gang with links to a former apartheid official. The good guys don't walk away from their encounters with the bad guys unscathed. This is a welcome addition to the growing ranks of crime books set in South Africa—powerful and unflinching in its portrayal of evil both mindless and calculating.