Kyle Chandler Joins Kathryn Bigelow's Movie About The Hunt For Osama Bin Laden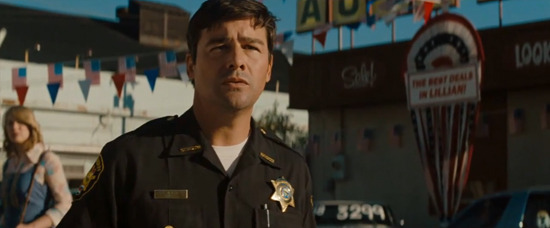 When Peter Berg talked recently about the challenges of turning the Friday Night Lights TV show into a movie, one of the chief hurdles seemed to be scheduling. "Kyle [Chandler] is busy," he said, and now we know one of the things that is keeping the actor away from the field.
Kyle Chandler has signed on to be a part of the ensemble cast in Kathryn Bigelow's movie about the Navy SEAL hunt for Osama Bin Laden. The movie was already in development from the Hurt Locker team of Bigelow and Mark Boal, in slightly different form, when it was announced that the Navy SEAL Team 6 had killed the terror figure. After that point it went back to the drawing board, and has slowly been gearing up to shoot.Deadline says that Chandler will play a CIA agent in the movie, but also says that neither Sony nor Annapurna Pictures has confirmed the reported cast, which includes Jason Clarke, Joel Edgerton, Chris Pratt, Jessica Chastain, Mark Strong and Edgar Ramirez.
If things go well with the film, however, Sony will put it in theaters on December 19. That's the current plan, at least; this is a project for which things have changed a couple times, so I wouldn't hold onto any particular idea about it too tightly at least until cameras are rolling.