'I Am Legend' Sequel Deal Comes Together; Akiva Goldsman Producing, Will Smith Not Yet Signed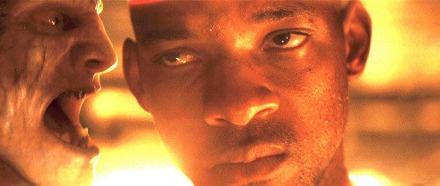 The long-threatened sequel to the 2007 Will Smith movie I Am Legend is moving again. Warner Bros. has signed Akiva Goldsman and Overbrook Entertainment to create another film in which Will Smith will reprise the role of 'last man on Earth' Robert Neville. Arash Amel will script.
Deadline says that this isn't a prequel, which counters one possible story that flew about the follow-up some time ago. There is no word on the signing of Francis Lawrence, who directed the original film and has since made Water For Elephants and directed episodes of Kings, Touch, and is about to make a TV project called Gotham.
And while Goldsman is signed to produce the sequel, Will Smith isn't yet officially on board. He'll wait until Amel's script is delivered. If the movie isn't a prequel, the script will have to deal with the fact that Smith's character doesn't live through the end of the original movie. (There's an alternate ending for I Am Legend, pictured above, in which Smith's character doesn't die. Conceivably that could be the jumping-off point for this script, though that would be an unorthodox move.)
As far as the prequel idea goes, Lawrence once explained,
That was the real reason I wanted to do the movie in the first place, really, was the idea of 'What does that world look like, what does it do to you when you're by yourself? ... What does it do without people, without companionship and sound and the loss of your family, without anybody to talk to? I think that's really what people connected to, and so the tough thing is, how do we do that again and in a different way?
None of the prequel talk was ever very convincing, but in reality this all sounds like Warner Bros. trying to come up with a legit reason to put Will Smith back in a film framework that earned half a billion the last time around.