Hugh Grant Says He Plays Six "Incredibly Evil" Characters In 'Cloud Atlas'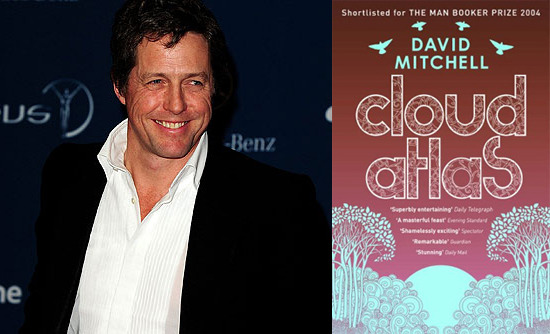 And this is part of why I positioned Cloud Atlas, written and directed by Tom Tykwer, Andy Wachowski and Lana Wachowski, as my second most-anticipated film of 2012.
Let's run through the basics again, for those who are just joining in: One film. Two parallel film units with three directors shooting six interconnected stories. Most of the cast plays multiple roles, sometimes switching genders and races in tales that range from classic adventure to detective thriller to dystopian sci-fi.
We know the cast (Tom Hanks, Halle Berry, Hugo Weaving, Ben Whishaw, Susan Sarandon, Jim Broadbent, Hugh Grant and Bae Doona) but have only known a bit about the characters each person will play. Now Hugh Grant is talking about Cloud Atlas, and it sounds like he had the time of his life playing six "incredibly evil" characters, even if each is a relatively small role.
Empire talked to Grant, who said as an overview:
I have six cameo parts in this strange, ambitious film. I do a lot of killing and raping. I wear an awful lot of prosthetic make up, too. You probably won't know that I am in the film! But it was a laugh. I thought before I read it that I'd turn it down, which I normally do, but I was interested in meeting the Wachowskis because I have always admired them enormously. And they are so charming and fascinating.
Count me in! (Not as an endorsement of killing and raping so much. Just of Hugh Grant doing it. On film.)
As far as specific roles go, Grant only mentions that he played "a cannibal, about 2000 years in the future," which means he's got a small part in the 'final' story, 'Sloosha's Crossin' an' Ev'rythin' After.' But the fact that he's got six roles means he's probably in each of the six tales. And if he's in all six, can we expect that everyone in the cast follows suit?
Grant finished with,
I have seen little bits of cut footage and it is just astonishing. I probably had 20 shooting days, and each of them is shooting their own part of the film with their own crews. It's remarkable.