Final Round Of SXSW Films Includes 'Searching For Sugar Man,' 'Safety Not Guaranteed' And 'Nature Calls,' With Patton Oswalt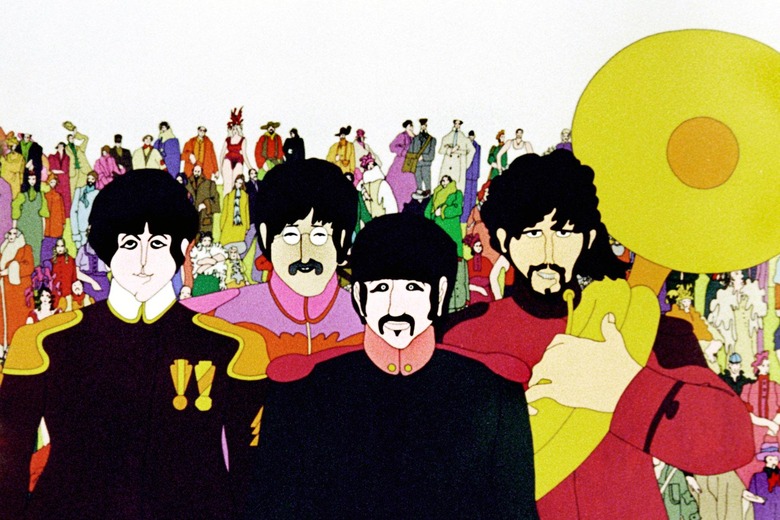 This year's SXSW Film Festival will open in less than a month, on Friday, March 9, 2012, and run through Saturday, March 17 in Austin, Texas. The opening night film is the world premiere of Joss Whedon & Drew Goddard's The Cabin in the Woods, and the rest of the film schedule includes pictures such as God Bless America, The Raid, and Midnight entries John Dies at the End and V/H/S.
Now the last wave of SXSW film programming has been announced. The lineup now includes some Sundance 2012 faves such as Searching For Sugar Man (review), Shut Up and Play the Hits (trailer), Safety Not Guaranteed (review), Sleepwalk With Me (review).
There are even quite a few other movies that don't have titles beginning with 's,' such as Todd Rohal's Nature Calls, featuring Patton Oswalt and Johnny Knoxville, and the restored version of Yellow Submarine.
You can find the lineup of today's film announcements below, and check the entire schedule, complete with both screening and conference dates and times, at www.sxsw.com/film.
Including the films announced today,, the 2012 SXSW Film Festival will host a total of 132 features, consisting of 74 World Premieres, 17 North American Premieres and 11 U.S. Premieres, with 58 films from first-time directors. 138 shorts will screen as part of 12 overall shorts programs.
NARRATIVE SPOTLIGHTBlue Like Jazz
Director: Steve Taylor, Screenwriters: Donald Miller, Steve Taylor, Ben Pearson
A Texas college student flees the hypocrisy of his religious upbringing for life in the Pacific Northwest at 'the most godless campus in America.' Based on the New York Times bestseller by Donald Miller.
Cast: Marshall Allman, Claire Holt, Tania Raymonde, Justin Welborn, Eric Lange (World Premiere)
Nature Calls
Director/Screenwriter: Todd Rohal
Polar-opposite brothers Randy (Oswalt) and Kirk (Knoxville) never saw eye-to-eye, but their rivalry is taken to a new level when Randy hijacks Kirk's son's sleepover, taking the boys on a Scout Trip to remember.
Cast: Patton Oswalt, Johnny Knoxville, Rob Riggle, Maura Tierney, Patrice O'Neal, Darrell
Hammond (World Premiere)
EMERGING VISIONSKing Kelly
Director: Andrew Neel, Screenwriter: Mike Roberts
Made entirely from camera-phone footage, King Kelly is a sensational journey into hedonistic American youth culture and the YouTube generation.
Cast: Louisa Krause, Libby Woodbridge, Roderick Hill, Will Brill, Patrick Murney (World Premiere)
LOW & CLEAR
Directors: Kahlil Hudson, Tyler Hughen
Two formerly close friends reunite for a fly-fishing trip and struggle to understand how much they've each changed – and how these changes now threaten the friendship. (World Premiere)
24 BEATS PER SECONDLost and Sound (UK)
Director: Lindsey Dryden
Music may be an essential part of being human – but what if you lost the ability to hear it? A dancer, a pianist and a music critic attempt to re-discover music after deafness, with astonishing results.
(World Premiere)
Searching for Sugar Man (Sweden/UK)
Director: Malik Bendjelloul
The true story of the greatest '70s US rock icon who never was, how he was rediscovered and finally became the legend he deserved to be. A story of hope, inspiration and the power of music.
SX GLOBALGLOBAL HOME (Germany)
Director: Eva Stotz
Director Eva Stotz visited interesting people all over the world whom she found through online-host-networks and emerged for a limited time in their every-day-life.
(World Premiere)
The Will (Denmark)
Director: Christian Sønderby Jepsen
Henrik dreams of a new beginning. But when Henrik's grandfather dies, leaving behind a fortune of millions, old skeletons come to light. (North American Premiere)
FESTIVAL FAVORITESChasing Ice
Director: Jeff Orlowski
Photographer James Balog was once a skeptic about climate change, but he discovers undeniable evidence. Balog reveals hauntingly beautiful, time-lapse videos of vanishing glaciers, while delivering hope to our carbon-powered planet.
Monsieur Lazhar
Director/Screenwriter: Philippe Falardeau, Based on the Stage Play by: Evelyne de la Chenelière
The story of an Algerian immigrant substitute teacher who brings emotional stability to a Montreal middle school class shaken by the tragic death of their well-liked teacher.
Cast: Mohamed Fellag, Sophie Nélisse, Emilien Néron, Danielle Proulx, Brigitte Poupart
Safety Not Guaranteed
Director: Colin Trevorrow, Screenwriter: Derek Connolly
A trio of magazine employees investigate a classified ad seeking a partner for time travel.
Cast: Aubrey Plaza, Mark Duplass, Jake Johnson, Karan Soni
Shut Up and Play the Hits (UK)
Directors: Will Lovelace, Dylan Southern
The final days of LCD Soundsystem.
Sleepwalk With Me
Director/Screenwriter: Mike Birbiglia, Screenwriter: Ira Glass, Joe Birbiglia, Seth Barrish
An aspiring comedian reluctant to confront his fears of love, honesty, and growing up; a budding standup comedian has both a hilarious and intense struggle with sleepwalking.
Cast: Mike Birbiglia, Lauren Ambrose, James Rebhorn, Carol Kane, Cristin Milioti
SPECIAL EVENTS
Coffin Joe's This Night I Will Possess Your Corpse with live score by Gary Lucas (Brazil)
Director/Screenwriter: Jose Mojica Marins, Screenwriter: Aldenora De Sa Porto
Gary Lucas' live original solo guitar soundtrack accompanying the legendary 1967 Brazilian cult horror film classic directed by and starring Jose Mojica Marins a/k/a Coffin Joe.
Cast: Jose Mojica Marins a/k/a Coffin Joe, Tina Wohlers, Nadia Freitas, Antonio Fracari, Jose Lobo
Yellow Submarine (1968) Newly Restored (UK)
Director: George Dunning
Once upon a time in an unearthly paradise called Pepperland, the Blue Meanies threaten to destroy all
that is good. Enter John, Paul, George and Ringo to save the day! Armed with their humour, songs,
and yellow submarine, the Fab Four tackle the rough seas in an effort to bring down evil.
Cast: The Beatles, Paul Angelis, John Clive
NARRATIVE SHORTSInquire Within
Director: Jay Rosenblatt
A hypnotic, apocalyptic film about false choices and faith.
MIDNIGHT SHORTSgoing to the store
Director: David Lewandowski
A normal man walks to a place.
SX GLOBAL SHORTSThe Little Team (Spain)
Directors: Roger Gómez, Daniel Resines
Fourteen little kids go over an unsolved football mystery, and they end up teaching an unexpected life
lesson to grown-ups.
The Perfect Fit (Scotland, UK)
Director: Tali Yankelevich
Ballet shoes may be worn by delicate girls, but they're crafted by burly men...