Watch Tim Burton's Odd 'Abraham Lincoln: Vampire Hunter' Introduction, Plus Behind The Scenes Footage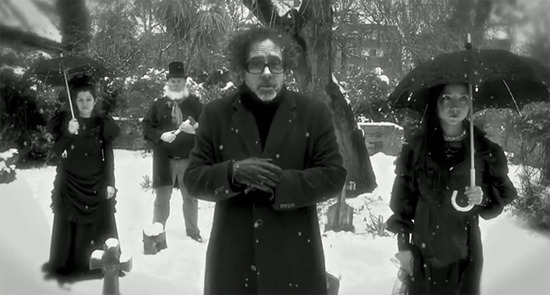 No matter whether you love Tim Burton or find him tiresome we've got a video that will play directly to either attitude about the filmmaker.
Fox recently premiered the Abraham Lincoln: Vampire Hunter trailer at the Abraham Lincoln Presidential Library & Museum in Springfield, IL. Burton couldn't be there, but he taped an introduction to the footage. It's a weird thing, featuring a gag (I think it's a gag, anyway) about a royal werewolf, and audio that seems to be intentionally out of sync. I'm not certain if the into is endearing or just flat, so I'll leave that up to you to decide.
Also after the break is a short behind the scenes reel for the film that explains a bit of the film's approach to creating the 'secret life' of Lincoln. There's a bit of new footage in there, too.
Here's Burton's intro, via Deadline:
And this is the BTS clip:
If you want to see more, check out the domestic and international trailers for the film, both of which hit this week. Abraham Lincoln: Vampire Hunter features Benjamin Walker as Lincoln, as well as Mary Elizabeth Winstead, Alan Tudyk, Anthony Mackie, Rufus Sewell, Dominic Cooper, and Erin Wasson, just to name a few. It opens on June 22nd.
The film explores the secret life of our greatest president, and the untold history that shaped our nation. As a young boy, Abraham Lincoln (Benjamin Walker) witnesses the shocking death of his mother, leading him on a path to an ongoing war – and ultimately to the presidency – he chronicles in a hidden diary. The journal reveals the incredible story of a clandestine warrior who never stopped fighting for the country he led and the people he loved.