Watch The First Seven Minutes Of NBC's 'Awake' Starring Jason Isaacs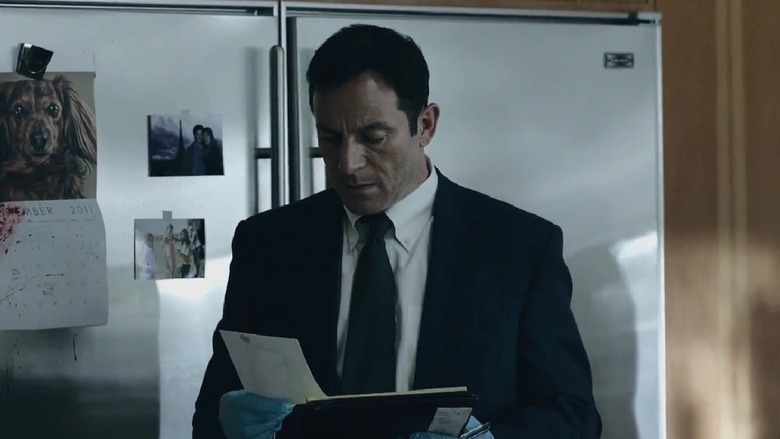 NBC dropped an extended preview of its upcoming drama Awake last week, but today we have an even better look at the new show in the form of the first seven minutes of the episode. Jason Isaacs stars as Detective Michael Britten, who survives a car crash to find his life split into two realities: one in which his wife (Laura Allen, Terriers) lived through the accident, and another in which his son (Dylan Minnette, Lost) did. It's a setup that requires a bit of explaining, but the premiere seems to get it out of the way fairly quickly. Watch the clip after the jump.
[via Bleeding Cool]
I like the concept on paper, but I'm curious to see how it'll actually play out over the course of the series. There are a lot of elements here — the family drama, the intersecting cop plotlines, the sci-fi mystery — and I could see it being tough to find the right balance between them. With talent like Isaacs, Allen, and creator Kyle Killen (Lone Star) on board, though, Awake seems at least worth checking out when it premieres Thursday, March 1 at 10 PM on NBC.
Synopsis:
Lots of people find themselves leading some kind of double life... but none quite like this.
After Detective Michael Britten wakes up from a car accident with his wife and teenage son, he learns the devastating news that his wife died in the crash. Trying to put the pieces of his life back together, he wakes up a few days later to realize that his wife is very much alive and his son died in the accident! Did he lose his wife or his son? Or neither of them??
What if your life split in two in the face of a situation like this, and you could actually have everything you wanted, just not all at the same time? Michael goes back to work solving crimes while trying to put things back on a "normal" track, but alternating between realities provides some challenges – one moment he and his wife are grappling with having another child to replace their loss, and the next moment he's finding himself attracted to his son's tennis coach to fill the void from the loss of his wife. At the same time, he is solving crimes in each world which sometimes overlap in fascinating and inexplicable ways. Is he dreaming or going mad? Michael begins seeing two different therapists to help him sort things out, but then again why would he want either "reality" to go away when the totality of both means having his family complete?
From groundbreaking writer Kyle Killen (Lone Star) and starring Jason Isaacs (Brotherhood, Harry Potter) comes a drama about the power of the mind, where the inception of life is a mystery and reality might just be overrated.