'Abraham Lincoln: Vampire Hunter' International Trailer, Now With A Dominic Cooper Monologue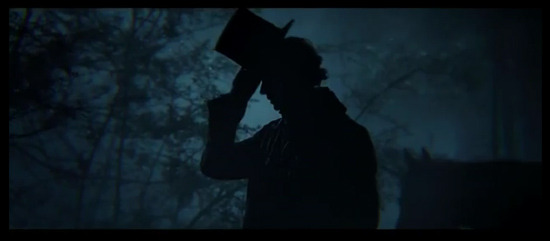 Yesterday we got our first look at footage for Timur Bekmambetov's Abraham Lincoln: Vampire Hunter, scripted by and based on Seth Grahame-Smith's novel of the same name. Now we've got a trailer for international audiences that has a lot more footage, and also offers some dialogue from Dominic Cooper. Check it out below.
So much of this spot is the same — the music, the use of Johnny Cash's 'The Man Comes Around,' and the much of the same footage and editing.
But all the Dominic Cooper stuff is new, and sadly I think it blunts the impact of the trailer somewhat. I'll say this, however: watching this footage again thanks to this trailer I realized what this film really reminds me of at this point: Konami's long-running Castlevania games.
Abraham Lincoln: Vampire Hunter features Benjamin Walker as Lincoln, as well as Mary Elizabeth Winstead, Alan Tudyk, Anthony Mackie, Rufus Sewell, and Erin Wasson, just to name a few. It opens on June 22nd.
The film explores the secret life of our greatest president, and the untold history that shaped our nation. As a young boy, Abraham Lincoln (Benjamin Walker) witnesses the shocking death of his mother, leading him on a path to an ongoing war – and ultimately to the presidency – he chronicles in a hidden diary. The journal reveals the incredible story of a clandestine warrior who never stopped fighting for the country he led and the people he loved. [Bleeding Cool]