Watch 'Cost Of Living,' A Great Workplace Sci-Fi Short Featuring Bret Harrison And Brandon Routh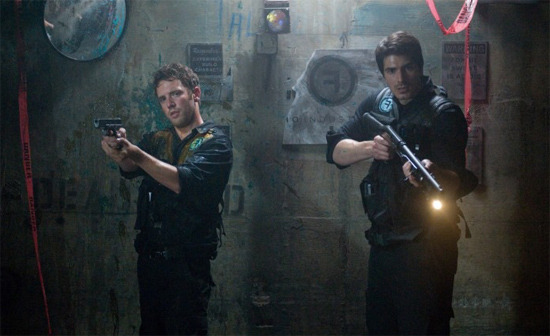 Remember, if you will, the days of Fantastic Fest 2011. One of the most buzzed about films at the Austin, TX festival wasn't a feature from an established director. It was Cost of Living, a short written and directed by first-time filmmaker BenDavid Grabinski.
The short stars Bret Harrison (Reaper, Breaking In) and Brandon Routh (Superman Returns, Scott Pilgrim vs. the World) as employees of a company that makes, or engineers... something. Or 'somethings.' Actually, let's say very violent, very dangerous somethings.
Cost of Living throws a couple of more or less regular guys into a really crappy situation and then watches them fight their way out. It is a tasty blend of splattery, tense action with just enough self-awareness and humor to balance the danger. Oh, and it is beautifully shot by Morgan Susser, and features a special guest as the voice of the company computer. The full film is now online; check it out below.
All you really need to know about this one before watching is the Bowie-esque note that BenDavid included on the short's Vimeo page: "Please play loud."
Check out FoIndustries for more info.
Here's a behind the scenes view of the action, shot and edited by Riley Stearns. (We just featured his short Magnificat last week.)