Guillermo Del Toro To Helm 'Beauty And The Beast' With Emma Watson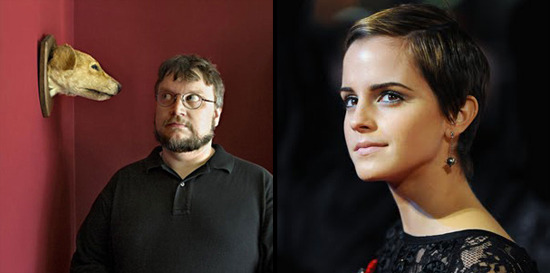 It's a tale as old as time, song as old as rhyme. Guillermo Del Toro is attached to another project. This time he's upgraded from producer to director of a new version of the classic fairy tale Beauty and the Beast for Warner Bros., which will be written by Andrew Davies (Bridget Jones' Diary). Read more after the jump.
Variety broke the news of Del Toro's decision to board the project as a director, as well as the details about the new screenwriter. Last summer, he was on this film strictly as a producer. There's no indication as to why he changed his mind.
Del Toro is currently still in production on another project for Warner Bros., Pacific Rim, which is scheduled for release May 2013. That means, if del Toro decides on this as his next film, he likely wouldn't be able to direct it until early next year. And even then, he still has a plethora of other options to consider first.
In the meantime, he'll reportedly write a treatment of the story, from which Davies will complete the full screenplay.
What that screenplay will entail, and how it'll be different from other versions of the story, is still a mystery. In the last few months, though, Beauty and the Beast has roared back with a vengeance. First there was the 3D re-release of the Disney Oscar-nominee, then the announcement of The CW doing a reboot of the old Ron Perlman TV series and, just last week, another film version directed by Christophe Gans.
Will Del Toro and Gans be going head to head like Tarsem and Sanders with their Snow White projects coming out later this year? It's doubtful. What's most frightening is that no less than three different groups have decided now is the time to redo a story that has already been adapted in such magnificent ways. Here's hoping Del Toro has something different in store. Maybe something less family friendly.
Why do you think Beauty and the Beast is so hot again? Will Del Toro make this his next project?