/Film Receives A Package Containing Peter Parker's Backpack ['The Amazing Spider-Man' Viral]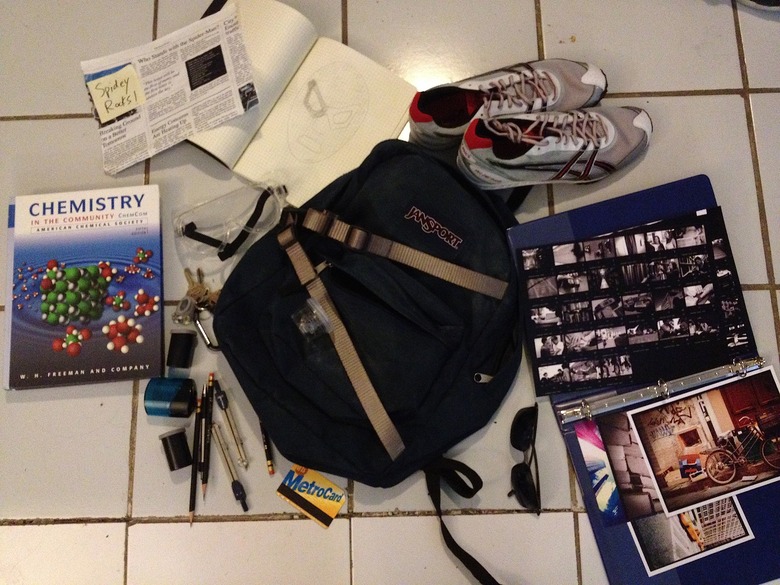 Today I came home from lunch to find a big box sitting on the front door of /Film HQ. Inside the box I found a backpack, inscribed on the backside with "Property of Peter Parker". This is the same exact backpack that Andrew Garfield wore in The Amazing Spider-Man footage we saw at Comic Con and at the recent "Untold Story" event. The only difference is this bag is missing Peter's skateboard. This is one of the most elaborate pieces of viral marketing that I've ever seen in person. The backpack was filled with the types of things you would expect a high school student to have: notebooks, a binder, school books and more.
Inside I found a clipping from the Daily Bugle with articles on Spider-Man and Captain Stacey (Gwen's father). In the notebook, I found many handwritten calculations, either classwork or maybe for a project Parker is working on at home, alongside many preliminary designs for Spider-Man's logo, suit and mask. Each page is handwritten in pencil or pen, sometimes featuring highlighter highlights. The binder contains a bunch of film negatives and a few printed photos, none of which appear to contain any characters from the film. The backpack also contained personal items like Parker's sunglasses and sneakers, and school supplies like safety lab goggles, pencils, compasses, a set of keys and more.
I'm not sure what to make of the contents, and I'm sure some of you have more time to look through the items and figure out what they might mean, or what clues might be hidden inside. What does this all have to do with The Amazing Spider-Man? Will it lead up to a real-world event? Hit the jump to look through the photos for yourself. And please report any findings in the comments below.