Saoirse Ronan Will Lead Disney's 'The Order Of The Seven,' Formerly 'Snow And The Seven'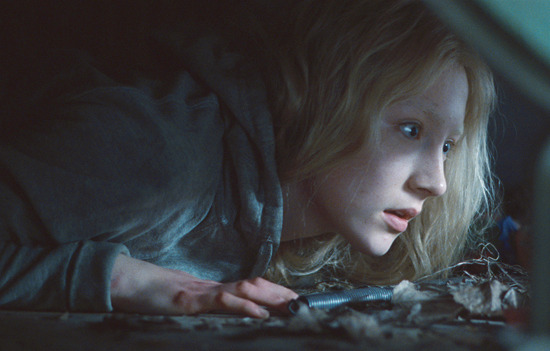 For quite some time, Disney has been developing a new live-action version of Snow White and the Seven Dwarfs in which the old story would get a fairly modern makeover. Michael Chabon wrote the initial version, but the film has been tweaked a few times over the past decade with directors as disparate as Yuen Wo-ping and Francis Lawrence attached at different times.
Then something happened. Or, really, two somethings happened, as Universal and Relativity Media beat Disney to the punch with Snow White and the Huntsman and Mirror, Mirror, both of which are set to open this year. Two live-action Snow White re-tellings is goofy enough, and adding a third would strain audience interest like crazy.
So the Disney movie, which has had various titles over the years (most commonly Snow and the Seven) has been reworked again to eliminate all overt Snow White ties. What's left is The Order of the Seven, a martial arts action film centered around a young heroine. Saoirse Ronan (The Lovely Bones, Hanna) is in talks to take that lead role.
Variety offers a description of the new storyline in The Order of the Seven:
Ronan would play Olivia Sinclair, a British expat in 19th century Hong Kong, who seeks the protection of a centuries old group of warriors, now a jaded group of outlaws. After the reemergence of an ancient evil empress, Sinclair helps the warriors reclaim their destiny and noble roots.
Those who've been keeping up with current trends in film financing and global sales will probably already have made a certain assumption based on that synopsis: there are roles in this film for Chinese actors, which will help the film sell in China.
In fact, says Variety, there are roles for Chinese, Russian and Japanese actors, and Disney wants well-known stars from those countries to help fill out the film's "global team of heroes." Here's the synopsis we got last year, which might shed some light on what we can expect:
The seven are a 19th century-set disparate band of international warriors belonging to a centuries-old order who have lost their way. Their meeting with an Englishwoman being chased by an ancient evil is the catalyst for their redemption. While the project is set in China, the warriors will be from locales near (the U.S.) and far (Russia), and each warrior will have a unique fighting style.
The film will ideally shoot this fall under the direction of Michael Gracey, a commercial director and visual effects supervisor who gets to make his feature debut here. Jayson Rothwell and Michael DeBruyn wrote the current draft.