And Now Russell Crowe Is Linked To Jaume Collet-Serra's 'Dracula' Retelling 'Harker'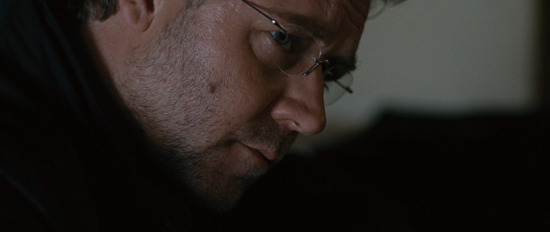 Briefly: I don't know what Russell Crowe's agent is doing, but it is working. Casting news and rumors have been thick of late for the actor. Though he said the report of MGM looking at him for RoboCop was untrue, there is still the matter of Crowe being in talks for Darren Aronofsky's Noah and Akiva Goldsman's adaptation of the Mark Helperin novel Winter's Tale. He's also playing Inspector Javert in Tom Hooper's Les Miserables.
And now Crowe is also reportedly in talks with Warner Bros. to take a starring role in Harker, the Dracula retelling that Jaume Collet-Serra (Orphan) is developing to direct.
Vulture says that WB wants Collet-Serra to do Harker and then possibly a version of Akira made with a reduced budget.
Harker, written by Lee Shipman and Brian McGreevy, follows an altered version of Bram Stoker's character Jonathan Harker, who is revamped as a Scotland Yard detective following Dracula's murders on English shores.
This is one of those weird situations where the basic concept of the film sounds mostly unappealing, but I like Crowe and can see him being fun to watch in this role.  Given how much he's got going on this seems like a longshot anyway, but we'll keep tabs on it. Crowe's own Twitter feed is probably the place to look for quick updates; that's where the RoboCop denial came from.