Subtitled Full Trailer For 'Extraterrestrial,' From 'Timecrimes' Director Nacho Vigalondo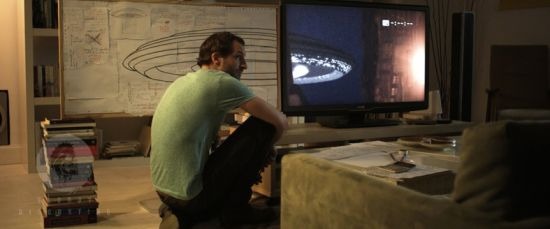 Spanish director Nacho Vigalondo earned an instant group of followers with his 2007 debut feature Timecrimes. The movie (which also featured Vigalondo as one of the film's few actors) was a weird, compelling time travel movie with a murderous, guilty heart. We've waited years for the director's next feature, and despite the fact that it is currently without a US distributor, I hope audiences will get a chance to see it this year.
Extraterrestrial is sort of an 'aliens invade' movie but is much more a strange tense romance in which Julio (Julián Villagrán) wakes up in the flat of the girl of his dreams (Michelle Jenner) to find that the world outside is cowering in fear under the shadows of alien ships that hang in the air. What happens next?
We saw a teaser trailer last year that featured no subtitles; now there is a full trailer than subs everything, so you can get a much better idea of what's in store from Extraterrestrial. Check it out below.
Germain saw the film at Fantastic Fest last September and raved, saying,
Vigalondo's pitch-perfect dialogue, logic and ability to make the dumbest thing seem logical is what sings throughout Extraterrestrial. Most of the time, the aliens don't even matter, it's all about how everyone in one apartment can live with each other when they're all in love with the same woman. The details and situations this creates surprise from scene to scene and the script actually takes the audience into each character's reactions to those situations to show why it might make sense for one, but no sense to another. And throughout all of this, Extraterrestrial remains constantly funny and smart.
Here's an excerpt from the TIFF writeup of Extraterrestrial:
Strangers Julio (Julián Villagrán) and Julia (Michelle Jenner) wake up beside one another in Julia's apartment, groggy, hun­gover and unsure how they met. Julia is about to send Julio on his way when both notice the uncanny silence gripping Julia's downtown neighbourhood. Looking out the window, they see Madrid's skyline dot­ted with enormous spaceships. The only other person left in the building is Julia's fawning and somewhat creepy neighbour, Ángel (Carlos Areces), who explains that there's been an exodus of people flee­ing the city. When Julia's boyfriend Tipo (Miguel Noguera) shows up — having now shifted into survivalist mode — the dynam­ics between the four reach heady extremes. Attempting to hide their apparent one-night stand, Julia and Julio convince Tipo that Ángel is an alien and must be ejected.
If you haven't yet seen Timecrimes, the film is streaming once again on Netflix and I recommend taking a look. I watched it again a few days ago and the movie still works, even going into it with full knowledge of the plot turns. [via FirstShowing]