Release Dates: 'The Wolverine,' 'This Means War' (Again), And 'Alex Cross'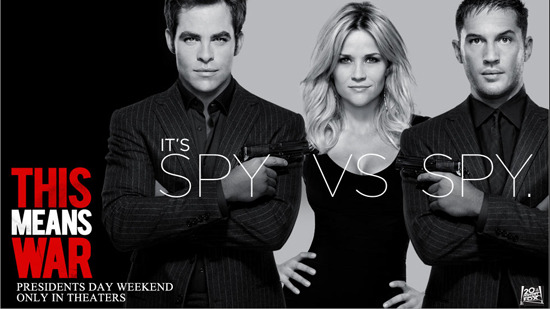 With just days to go until This Means War was scheduled to hit theaters, Fox has shifted its release date yet again. Less last-minute is Summit's announcement of a fall release date for Alex Cross (formerly I, Alex Cross), which sees Tyler Perry ditching the Madea costume for once. But the biggest piece of news, which remains unconfirmed at the moment, is a possible 2013 release date for The Wolverine. Hit the jump for details on all three pictures. (Update: Fox just confirmed with us that the release date for The Wolverine is legit.)
Directed by McG, This Means War stars Chris Pine and Tom Hardy as a pair of BFFs and CIA partners who find their bond tested when they fall for the same woman (Reese Witherspoon). The new date pits This Means War against Ghost Rider: Spirit of Vengeance and The Secret World of Arrietty.
Meanwhile, Summit has announced a release date of October 26, 2012 for its Rob Cohen-directed James Patterson adaptation Alex Cross. Tyler Perry, in rare serious thriller mode, plays the titular detective, who's involved in a cat and mouse game with a serial killer (Matthew Fox) who's murdered Cross' wife. Alex Cross will open wide against the horror Halloween 3D and the surfing biopic Of Men and Mavericks.
Box Office Mojo has listed July 26, 2013 as the release date for The Wolverine, and Fox just emailed to confirm that the date is correct. Production was originally scheduled to begin last fall, but filming was pushed to this summer to accommodate star Hugh Jackman's shooting schedule for Tom Hooper's Les Miserables.James Mangold is set to direct The Wolverine from Mark Bomback's rewrite of Christopher McQuarrie's script, which sees Wolverine traveling to Japan. The comic book pic will be competing against Phineas and Ferb and the Dirty Dancing remake.
[Additional sources: Deadline]