'Awake' Extended Preview - Lucius Malfoy Is Confused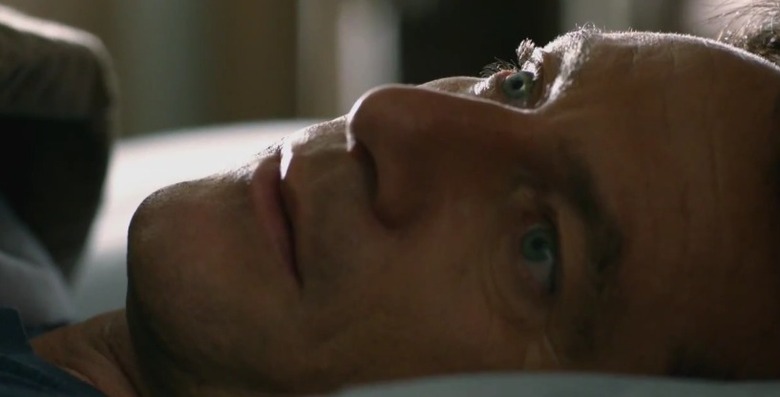 NBC's got several promising shows on its upcoming slate, starting with tonight's premiere of Smash, but another I've been looking forward to is this spring's alternate-reality drama Awake. Harry Potter alum Jason Isaacs puts on an American accent to star as Detective Michael Britten, who wakes up after a car crash to find his life split into two realities. In one, his wife (Terriers' Laura Allen) has survived the event; in the other, the survivor is his son. (Played by Dylan Minnette, from the last season of Lost.) Watch the extended preview after the jump.
It's a premise that could come across as ridiculously sappy, but the trailer manages to emphasize the poignancy of Britten's situation without pushing it too far. And there's some solid talent involved. Creator Kyle Killen was also behind the critically beloved but extremely short-lived Lone Star, and Isaacs and Allen have both done some great work in the past. Awake hits Thursday, March 1 at 10 PM on NBC.
Synopsis:
Lots of people find themselves leading some kind of double life... but none quite like this.
After Detective Michael Britten wakes up from a car accident with his wife and teenage son, he learns the devastating news that his wife died in the crash. Trying to put the pieces of his life back together, he wakes up a few days later to realize that his wife is very much alive and his son died in the accident! Did he lose his wife or his son? Or neither of them??
What if your life split in two in the face of a situation like this, and you could actually have everything you wanted, just not all at the same time? Michael goes back to work solving crimes while trying to put things back on a "normal" track, but alternating between realities provides some challenges – one moment he and his wife are grappling with having another child to replace their loss, and the next moment he's finding himself attracted to his son's tennis coach to fill the void from the loss of his wife. At the same time, he is solving crimes in each world which sometimes overlap in fascinating and inexplicable ways. Is he dreaming or going mad? Michael begins seeing two different therapists to help him sort things out, but then again why would he want either "reality" to go away when the totality of both means having his family complete?
From groundbreaking writer Kyle Killen (Lone Star) and starring Jason Isaacs (Brotherhood, Harry Potter) comes a drama about the power of the mind, where the inception of life is a mystery and reality might just be overrated.