'Take This Waltz' Trailer: Michelle Williams And Idiotic, Marvelous, Ridiculous Longing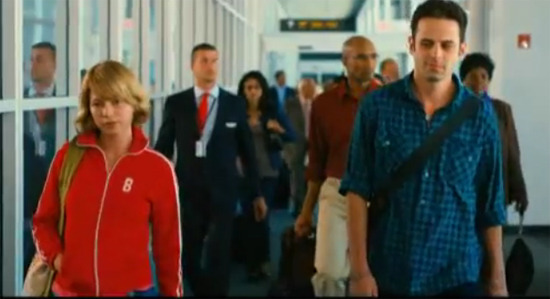 Sarah Polley's latest directorial effort, Take This Waltz, stars Michelle Williams and Seth Rogen as a couple struggling with fidelity and the complexities of dealing with love and sex as Williams' character is tempted by a strong, sudden attraction to another guy (Luke Kirby). The film premiered at TIFF last year, and gained notice for Williams' performance, and for the rare dramatic turns by Rogen and Sarah Silverman, who plays his sister.
Magnolia will release the film this year, and a trailer has just been released. It is based on a sensitive monologue from Williams, which is followed with an effective Lost in Translation trailer-style montage in which we see hints of the characters' lives and dilemma.
Though the bouncy energy contributed by Jenn Grant's song 'Parachutes,' this trailer does a nice job of expanding the view of the film we got in three teaser clips that were released last September. I envy anyone who has never had to cut through the knotted tangle of emotions that block rational thought when faced with a situation like the one in which Williams' character finds herself.
When Margot, 28, meets Daniel, their chemistry is intense and immediate. But Margot suppresses her sudden attraction: she is happily married to Lou, a celebrated cookbook writer. When Margot learns that Daniel lives across the street from them, the certainty about her domestic life shatters. She and Daniel steal moments throughout the steaming Toronto summer, their eroticism heightened by their restraint. Margot finally gives in to desire and in doing so, discovers some unsettling truths about herself. Swelteringly hot, bright and colorful like a bowl of fruit, Take This Waltz leads us, laughing, through the familiar but uncharted question of what long-term relationships do to love, sex, and our images of ourselves.