'Bullhead' US Trailer: Oscar-Nominated 'Roid Rage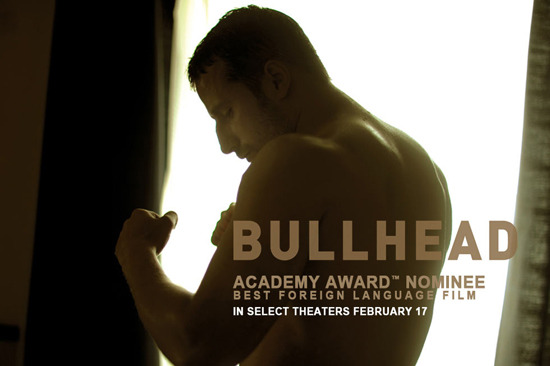 Drafthouse Films found itself in an interesting predicament recently: the label picked up rights to distribute the film Bullhead a couple months ago, and has been planning a rollout. But then the movie snagged a nomination for the Best Foreign Language Film Oscar. Suddenly there's reason to get Bullhead into theaters sooner rather than later, and the Drafthouse team went into overdrive to make that happen.
A poster for the film debuted earlier this week, and now we've got the first US trailer. Watching this I can see why the film did well at Fantastic Fest and why Drafthouse Films was eager to pick it up. There is undeniably a fighting angle to the movie, but Bullhead is really a crime thriller that looks like it has one hell of a physical performance from Mattias Schoenaerts. The trailer is oppressive as hell, with an atmosphere that made me a bit uncomfortable in the span of a mere two minutes.
Check out the trailer below.
Apple has the trailer in HD. Bullhead will hit theaters on February 17.
Perhaps the year's most stunning international debut, Michael R. Roskam's BULLHEAD is a harrowing tale of revenge, redemption and fate. Domineering cattle farmer Jacky Vanmarsenille (Mattias Schoenaerts in a ferocious breakout performance), constantly pumped on steroids and hormones, initiates a shady deal with a notorious mafioso meat trader. When an investigating federal agent is assassinated and a woman from his traumatic past resurfaces, Jacky must confront his demons and face the far-reaching consequences of his decisions. Acclaimed at festivals worldwide including the Berlin Film Festival, AFI Fest and Fantastic Fest, the award-winning BULLHEAD is visceral thriller bursting with rage that TwitchFilm calls "one of the most original crime films in recent memory."