Full Cast And Plot Revealed For 'Riddick'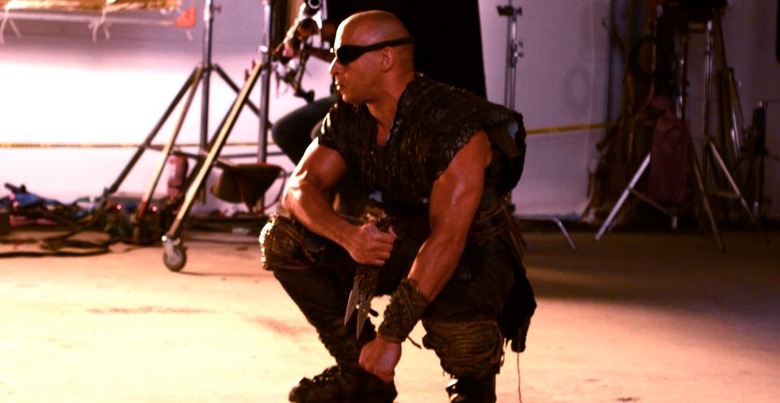 It's been a long eight years for fans of David Twohy and Vin Diesel's Riddick saga, but after numerous stops and starts, the third installment is coming together at last. Universal Studios has issued a press release announcing the start of principal photography in Montreal on the new sci-fi thriller, a follow-up to 2000's Pitch Black and 2004's The Chronicles of Riddick — and in the process, offered up some new crumbs of information about the film's plotline and casting. Read more after the jump.
Diesel reprises his role as the antihero Riddick, a dangerous, escaped convict wanted by every bounty hunter in the known galaxy.
The infamous Riddick has been left for dead on a sun-scorched planet that appears to be lifeless. Soon, however, he finds himself fighting for survival against alien predators more lethal than any human he's encountered. The only way off is for Riddick to activate an emergency beacon and alert mercenaries who rapidly descend to the planet in search of their bounty.
The first ship to arrive carries a new breed of merc, more lethal and violent, while the second is captained by a man whose pursuit of Riddick is more personal. With time running out and a storm on the horizon that no one could survive, his hunters won't leave the planet without Riddick's head as their trophy.
Also laid out in the press release is the cast of the film which, incidentally, seems to be officially going by the title of Riddick. Most of these names are ones we've heard before, but a few (like musician Keri Hilson) are news to us. Let's start with the ones that have character descriptions:
Karl Urban (Star Trek, The Bourne Supremacy) as Vaako
Jordi Mollà (Bad Boys II, Colombiana) as Santana, the arrogant captain of the mercenary ship
Matt Nable (Killer Elite) as Boss Johns, a man looking for answers
Katee Sackhoff (TV's Battlestar Galactica) as the Nordic mercenary Dahl
Bokeem Woodbine (upcoming Total Recall) as bounty hunter Moss
And "Rounding out the cast are Dave Bautista (The Scorpion King 3: Battle for Redemption), Conrad Pla (Immortals), Raoul Trujillo (Apocalypto), Nolan Funk (TV's Aliens in America) and two-time Grammy Award-nominated singer Keri Hilson."
Riddick has yet to announce a release date. Hit PRNewswire to read the full statement from Universal.