Watch Nine Minutes Of Tom Hardy, Chris Pine & Reese Witherspoon Being Awful To Each Other In 'This Means War' Clips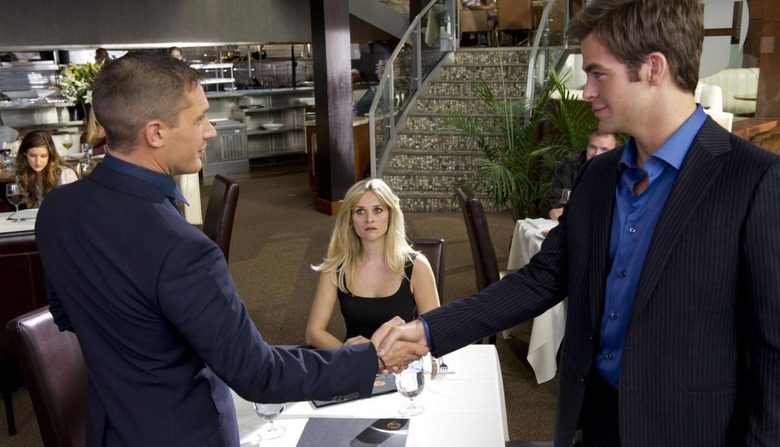 An obnoxious first trailer generally isn't a good sign for a movie, and after that first one hit I would've been perfectly content to see no more of McG's romantic action comedy This Means War. But nine (non-consecutive) minutes of the film have just been released, and surprisingly, they actually look better than the two or so we've already seen.
Chris Pine and Tom Hardy star as best friends and CIA colleagues who find their bond tested when they fall for the same woman (Reese Witherspoon). Naturally, rather than talking things out like reasonable adults, the guys use their government hookups to stalk the object of their affections and sabotage each other. Watch the new footage after the jump.
[via Ain't It Cool News]
True, This Means War still requires a huge suspension of disbelief and most of the jokes aren't even all that original, but there's a zippy energy to the proceedings that appeals to my silly side. I can't say I'm really rooting for any of these characters, since they're all acting like complete jerks, but Witherspoon, Pine, and Hardy seem to be having a lot of fun with them. I laughed a few times, I ogled the good-looking stars, and I got Montell Jordan's "This is How We Do It" stuck in my head. What more could you ask from a film like this?
Besides, Hollywood romances are littered with the kind of grand gestures that look swoonworthy on screen, but would probably land you in jail if you tried them in real life. Perhaps it's to McG's credit that he at least acknowledges that by having Hardy's character remark that he doesn't know if it's "creepy or romantic" to run background checks on a new crush.
Also starring Chelsea Handler, Til Schweiger, Angela Bassett and David Koechner, This Means War opens February 14.